BMO ETFs: Bank of Canada Update ​
"

We Love Barbells"

Dec. 15, 2022
Details:
BMO Short Corporate Bond Index ETF (Ticker: ZCS)
BMO Canadian Bank Income Index ETF (Ticker: ZBI)
BMO Long Federal Bond Index ETF (Ticker: ZFL)
BMO Long-Term US Treasury Bond Index ETF (Ticker: ZTL)
UPDATE – December 15, 2022 Federal Reserve Announcement:
In addition to the commentary we published last week on the Bank of Canada (BoC) meeting, below is some further commentary on the recent Federal Open Markets Committee (FOMC) meeting.
As we anticipated, the U.S. Federal Reserve (Fed) raised its overnight rate by

50

bps, which was on the higher end of market consensus. While inflation is trending in the right direction, we believe the Fed needed to come in on the higher end to show that it is still very much focused on taming inflation.
Chairman Powell further reiterated, ​

"

we still have some ways to go," but did acknowledge that the tighter monetary policy over the last month has a delayed effect, as we have been emphasizing. Powell also provided hints that slowing down the pace of rate hikes may be warranted. We continue to believe that the Fed will pause its tightening early next year, but the raising of the dot plots indicating a higher terminal

2023

value provides flexibility to resume its path in aggressive tightening if inflation would all of a sudden turn higher again.
We believe inflation continues to be headed in the right direction, which should be a positive for risk assets in the new year, particularly for bonds.
Last week, as anticipated, the Bank of Canada (BoC) raised its overnight rate for the seventh consecutive time. The overnight rate, which started the year at

0

.

25

%, now sits at

4

.

25

%, marking one of the most aggressive tightening cycles in the history of the central bank.
Prior to the meeting, the market was expecting either a

25

or

50

bps rate hike, with the majority leaning towards the lesser amount, as indicated by the overnight index swaps (OIS). On the ETF desk, we thought the BoC would come in at

50

bps, given that recent economic data has been mixed. The labour market continues to show strength, while the October year-over-year CPI number showed no improvement from the prior month.
As outlined in our last BMO ETF Portfolio Strategy Report (PSR), we've been calling for the BoC to pause its rate hikes in early

2023

, which now seems to be growing consensus. While the consumer price index (CPI) has proven to be somewhat resilient, it is trending in the right direction. While it's likely we will experience persistent inflation in some areas, we believe the CPI does exhibit ​

"

price stickiness" and may not be reflective of true inflationary conditions. Anecdotally, the housing market is showing real signs of cooling, and a growing number of retailers are reporting a build up of inventory. We believe these are early signs of disinflationary pressure.
The BoC has also softened its language, which further opens up the door for a pause in its tightening cycle. The OIS market is pricing in a terminal rate for

2023

to be

4

.

3

%, which would mean the market believes this is the last rate hike for now. While inflation, as indicated by CPI, is nowhere near the BoC's target rate, it should be noted that inflation was largely supply-side-driven, and the move away from COVID-

19

lockdowns should mean further healing in supply chains.
When looking at the yield curve in Canada, the spread between the

10

-year and the

2

-year has not been this inverted since the early

1990

s, which means the BoC must also consider any further rate hikes would not cause significant damage to the economy. While the inversion of the yield curve indicates a recession, it can be argued that risk assets have already been pricing this in all year. A pause in interest rate hikes, would be a positive for risk assets.
Fixed Income Positioning
The majority of investors have been hugging the short end of the curve and for good reason. The yield curve has been relatively flat for a good part of the year, which means investors have not been compensated for taking on duration risk. Furthermore, investors have typically sought long bonds as a means to help mitigate equity market risk. The correlation between long bonds and equities has also been positive this year, which has limited the ability of long bonds to hedge tail risk.
The rise in interest rates will likely cause the positive correlation between bonds and equities to eventually break down. Higher funding costs will ultimately reduce leverage in the market, meaning we will experience less deleveraging during equity market sell-offs. We believe this will increase the effectiveness of bonds in portfolio construction, which would provide a rebirth to the

60

/

40

portfolio, despite its failure to provide stability this year.
The inversion of the yield curve further enforces our view to take a barbell approach to fixed income, which we began advocating for in July. A combination of a short-term bond ETF with a long-term bond ETF would be ideal for today's environment. Investors can maximize yield on the short end of the curve by overweighting credit through the BMO Short Corporate Bond Index ETF (ticker: ZCS) or the BMO Canadian Bank Income Index ETF (ticker: ZBI). Investors can then complement this position with the BMO Long Federal Bond Index ETF (ticker: ZFL) or the BMO Long-Term US Treasury Bond Index ETF (ticker: ZTL). The exposure to short-term bonds would benefit if inflation persists and/​or the economy expands. Meanwhile, the long-term bond exposure would benefit should economic conditions continue to deteriorate.
The yield curve in Canada is now Inverted on the short end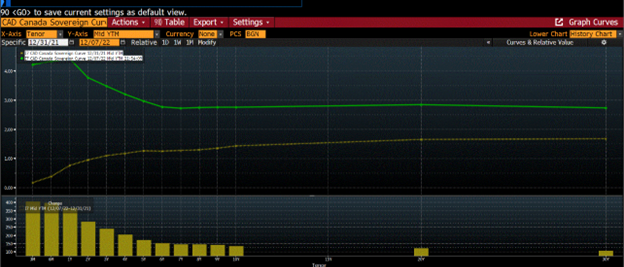 The largest inversion between 10-year and 2-year since 1990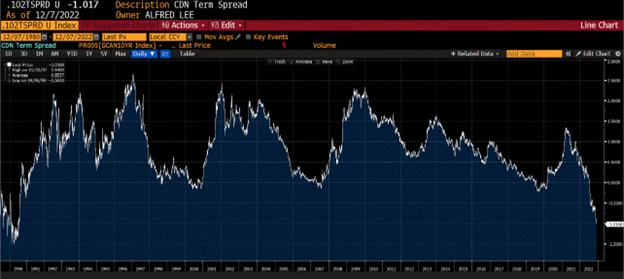 We expect the positive correlation between long bonds and equities to eventually dissipate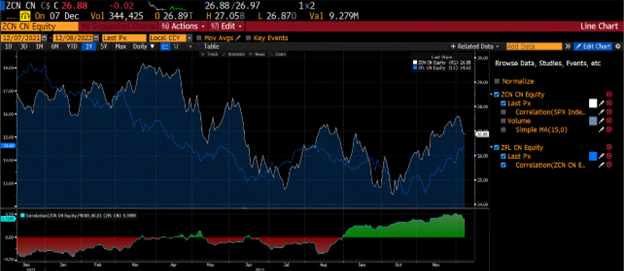 Disclosures:
This communication is intended for informational purposes only and is not, and should not be construed as, investment and/​or tax advice to any individual. Particular investments and/​or trading strategies should be evaluated relative to each individual's circumstances. Individuals should seek the advice of professionals, as appropriate, regarding any particular investment. Investors cannot invest directly in an index.
Any statement that necessarily depends on future events may be a forward-looking statement. Forward-looking statements are not guarantees of performance. They involve risks, uncertainties and assumptions. Although such statements are based on assumptions that are believed to be reasonable, there can be no assurance that actual results will not differ materially from expectations. Investors are cautioned not to rely unduly on any forward-looking statements. In connection with any forward-looking statements, investors should carefully consider the areas of risk described in the most recent simplified prospectus.
The viewpoints expressed by the Portfolio Manager represents their assessment of the markets at the time of publication. Those views are subject to change without notice at any time without any kind of notice. The information provided herein does not constitute a solicitation of an offer to buy, or an offer to sell securities nor should the information be relied upon as investment advice. Past performance is no guarantee of future results. This communication is intended for informational purposes only.
Commissions, management fees and expenses all may be associated with investments in exchange traded funds. Please read the ETF Facts or prospectus of the BMO ETFs before investing. The indicated rates of return are the historical annual compound total returns including changes in prices and reinvestment of all distributions and do not take into account commission charges or income taxes payable by any unitholder that would have reduced returns. Exchange traded funds are not guaranteed, their value change frequently and past performance may not be repeated.
For a summary of the risks of an investment in the BMO ETFs, please see the specific risks set out in the BMO ETFs prospectus. BMO ETFs trade like stocks, fluctuate in market value and may trade at a discount to their net asset value, which may increase the risk of loss. Distributions are not guaranteed and are subject to change and/​or elimination.
BMO ETFs are managed and administered by BMO Asset Management Inc., an investment fund manager and portfolio manager, and separate legal entity from Bank of Montreal.
BMO Global Asset Management is a brand name under which BMO Asset Management Inc. and BMO Investments Inc. operate.
®/™Registered trademarks/​trademark of Bank of Montreal, used under licence.