Canadian Banks: A Potential Bargain
Sep. 6, 2022
Details:
Canadian banks wrapped up its third quarter earnings reporting, which ended up being mixed overall. In addition, anticipation of a pending recession are weighing on the group, with the expectation of an economic slowdown weighing on various lines of the businesses and higher interest rates leading to potential loan losses.
While it can be argued that inflation has peaked, there still is no certainty that we will see the consumer price index (CPI) return to the Bank of Canada's (BoC) target range of

2

% anytime soon. As a result, we will likely see further rate hikes by the BoC, which would place further stress on the economy and the profitability of the banks.
While many of the tailwinds for the banks during the pandemic have turned to headwinds, much of the negativity has already been priced in. Comparing the average current price-to-earnings (P/E) and forward P/E ratios of the ​

"

Big Six," Canadian banks show a discount of -

27

.

9

% and -

23

.

1

%, relative to the S&P/TSX Composite (TSX). This indicates that, for long-term investors, this may be an attractive entry point for the Canadian banks.
On a price basis, banks have also fallen on average -

22

.

5

% from its

52

-week highs, while the TSX has fallen a comparably lower -

13

.

9

%. In addition, the banks have an average gross dividend yield of

4

.

8

%, versus the the TSX at

3

.

2

%. Higher dividends have historically been a reliable indicator of forward returns on the banks in the past, as shown in a recent article by Chris Heakes and Chris McHaney.
Banks look attractive relative to the broader market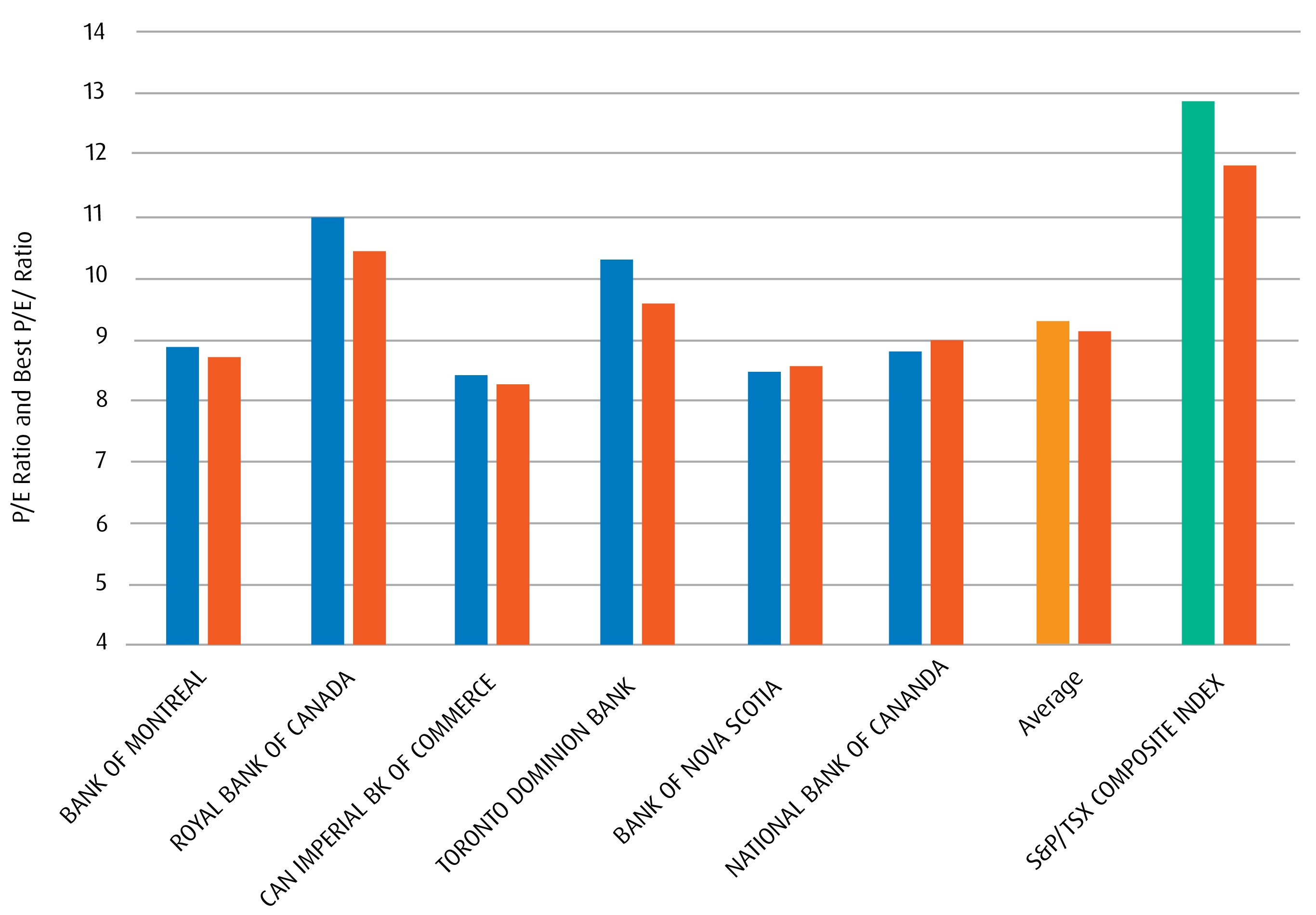 Discount to 52-Week High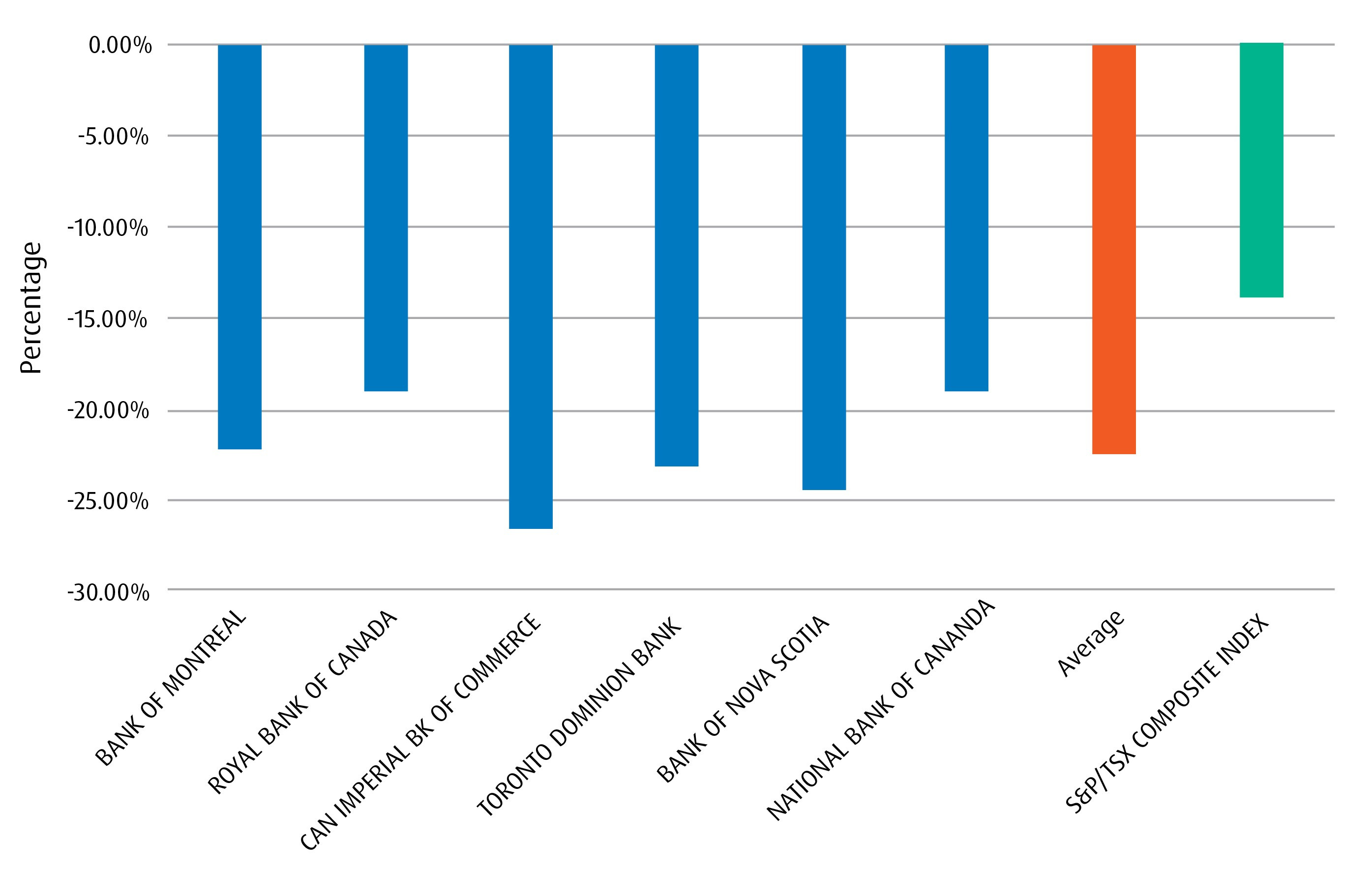 Trade Idea:
Investors can efficiently access the ​

"

Big Six" Canadian banks using the BMO Equal Weight Banks Index ETF (ticker: ZEB). This ETF has seen significant net inflows of over $

600

million year-to-date. This is due to many investors using ZEB to get exposure to the banks, given the group's attractive fundamentals.
While economic uncertainty will likely weigh on banking activity, thus leading to potential loan losses, it should be noted that Canadian banks have a strong historical track record of conservative management and operate in an industry that has significant barriers to entry. This is one of the primary reasons why banks often make up a core position in most Canadian investors' portfolios.
Additionally, with the share prices of banks down year-to-date, investors may want to take advantage of this by utilizing a tax loss harvesting strategy. Investors can sell shares of banks to crystalize the loss, which can be used to offset gains in other parts of a portfolio. The BMO Equal Weight Canadian Banks ETF (ticker: ZEB) can then be used to maintain exposure to the banks. For financial advisors looking to utilize this tax loss harvesting strategy, reach out to your ETF specialist.
Investors looking to extract yield, or those believing the prices of banks will be more rangebound, may want to consider the BMO Covered Call Banks ETF (ticker: ZWB), which also invests in the ​

"

Big Six" Canadian banks, using an equal weighting, but implements an additional covered call overlay that allows the portfolio to currently generate a gross yield of

7

.

8

%.

1




1 Bloomberg, as of August 31, 2022.

Any statement that necessarily depends on future events may be a forward-looking statement. Forward-looking statements are not guarantees of performance. They involve risks, uncertainties and assumptions. Although such statements are based on assumptions that are believed to be reasonable, there can be no assurance that actual results will not differ materially from expectations. Investors are cautioned not to rely unduly on any forward-looking statements. In connection with any forward-looking statements, investors should carefully consider the areas of risk described in the most recent simplified prospectus.
The viewpoints expressed by the Portfolio Manager represents their assessment of the markets at the time of publication. Those views are subject to change without notice at any time without any kind of notice. The information provided herein does not constitute a solicitation of an offer to buy, or an offer to sell securities nor should the information be relied upon as investment advice. Past performance is no guarantee of future results. This communication is intended for informational purposes only.
The communication is for information purposes. The information contained herein is not, and should not be construed as, investment, tax or legal advice to any party. Particular investments and/​or trading strategies should be evaluated relative to the individual's investment objectives and professional advice should be obtained with respect to any circumstance.
Distributions are not guaranteed and may fluctuate. Distribution rates may change without notice (up or down) depending on market conditions. The payment of distributions should not be confused with an investment fund's performance, rate of return or yield. If distributions paid by an investment fund are greater than the performance of the fund, your original investment will shrink. Distributions paid as a result of capital gains realized by an investment fund, and income and dividends earned by an investment fund, are taxable in your hands in the year they are paid. Your adjusted cost base will be reduced by the amount of any returns of capital. If your adjusted cost base goes below zero, you will have to pay capital gains tax on the amount below zero. Please refer to the distribution policy for BMO ETF set out in the prospectus.
Cash distributions, if any, on units of a BMO ETF (other than accumulating units or units subject to a distribution reinvestment plan) are expected to be paid primarily out of dividends or distributions, and other income or gains, received by the BMO ETF less the expenses of the BMO ETF, but may also consist of non-taxable amounts including returns of capital, which may be paid in the manager's sole discretion. To the extent that the expenses of a BMO ETF exceed the income generated by such BMO ETF in any given month, quarter or year, as the case may be, it is not expected that a monthly, quarterly, or annual distribution will be paid.
S&P®, S&P/TSX Capped Composite®, S&P 500® [are or is] registered trademarks of Standard & Poor's Financial Services LLC ("S&P") and ​"TSX" is a trademark of TSX Inc. These trademarks have been licensed for use by S&P Dow Jones Indices LLC and sublicensed to BMO Asset Management Inc. in connection with the above mentioned BMO ETFs. These BMO ETFs are not sponsored, endorsed, sold or promoted by S&P Dow Jones LLC, S&P, TSX, or their respective affiliates and S&P Dow Jones Indices LLC, S&P, TSX and their affiliates make no representation regarding the advisability of trading or investing in such BMO ETF(s).
Commissions, management fees and expenses all may be associated with investments in BMO ETFs and ETF Series of the BMO Mutual Funds. Please read the ETF facts or prospectus of the relevant BMO ETF or ETF Series before investing. The indicated rates of return are the historical compounded total returns including changes in share or unit value and the reinvestment of all dividends or distributions and do not take into account the sales, redemption, distribution, optional charges or income tax payable by the unitholder that would have reduced returns BMO ETFs and ETF Series are not guaranteed, their values change frequently and past performance may not be repeated.
For a summary of the risks of an investment in the BMO ETFs or ETF Series of the BMO Mutual Funds, please see the specific risks set out in the prospectus. BMO ETFs and ETF Series trade like stocks, fluctuate in market value and may trade at a discount to their net asset value, which may increase the risk of loss. Distributions are not guaranteed and are subject to change and/​or elimination.
BMO ETFs are managed by BMO Asset Management Inc., which is an investment fund manager and a portfolio manager, and a separate legal entity from Bank of Montreal. ETF Series of the BMO Mutual Funds are managed by BMO Investments Inc., which is an investment fund manager and a separate legal entity from Bank of Montreal.
BMO Global Asset Management is a brand name that comprises BMO Asset Management Inc. and BMO Investments Inc.
®/TM Registered trademarks/​trademark of Bank of Montreal, used under licence.