Managing Risk through Short Duration
Jul. 11, 2022
During times of economic uncertainty, fixed income is used in a portfolio to provide stability and counter the volatility from the equity side of a portfolio. Year-to-date, equity markets have struggled, with the S&P/TSX Composite Index and the S&P

500

Composite delivering a total return of -

8

.

9

% and -

17

.

4

% respectively so far. Bonds, unfortunately, have done little to soften the blow. The FTSE/TMX Canada Bond Universe is down -

12

.

1

%, only adding to portfolio losses.
It has been a challenging year for investors, as most assets have struggled in the face of inflation. With the consumer price index (CPI y/​y) in Canada and the U.S. at

7

.

7

% and

8

.

6

% respectively, central banks have had to act aggressively by raising rates and through quantitative tightening (QT) to counter inflation levels not seen since the Great Inflation of the

1980

s.
The yield curve has flattened significantly as a result with the

2

-,

10

- and

30

-year yields all being within

20

bps. Consequently, fixed income investors are not being compensated for taking on term risk. In addition, with the rapid rise in yields on the short end of the curve, investors can position themselves on the short end, with yield to maturity (YTM) levels not seen in years.
Signs of slowing inflation are starting to emerge. For example, commodity prices have cooled in the last month, supply is starting to build in housing, and the secondary market for some luxury goods has fallen substantially. However, with lockdowns hopefully a thing of the past, demand will likely outstrip supply, leaving inflation persistent for at least another

6

months. Also, should China continue with its Zero-COVID policies, inflation could be resilient, leaving central banks to maintain its hawkish stance.
Though long-end yields can continue to fall, investors may be better served by managing interest rate risk through short-duration fixed income. Further upside surprises in inflation could cause the long end to move higher again, particularly with job numbers continuing to come in strong. As a result, we view the risk and reward of short-term fixed income to be more attractive and an appropriate landing spot for investors.
A Very Flat Yield Curve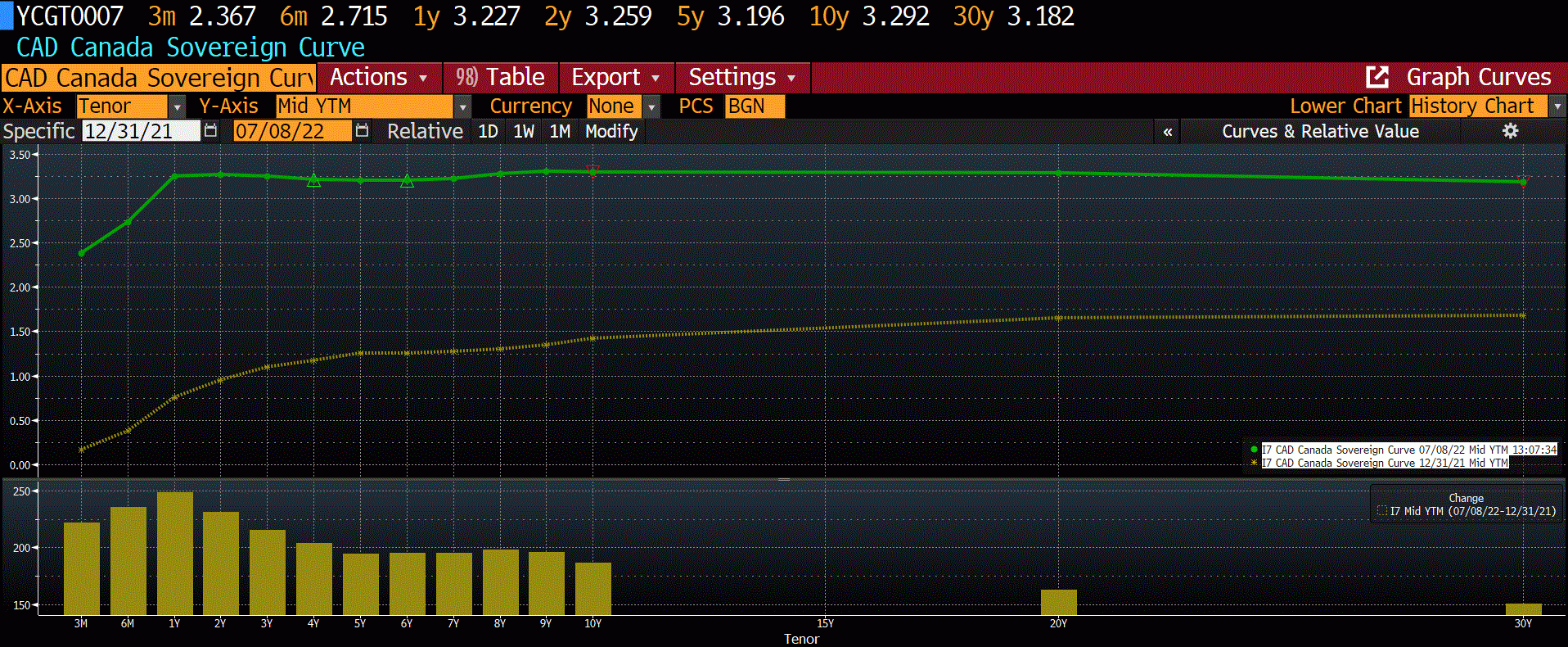 Trade Opportunity:
Fixed income ETFs allow investors to efficiently target the short end of the curve. Whereas for the past several years, yields on the front end were insignificant, investors can now collect a much more attractive yield by targeting short-term fixed income exclusively.
Source: BMO Global Asset Management, Bloomberg and FTSE/​Russell, July 4, 2022.
While fears of inflation have grown in recent months, the long end of the curve has started to move lower. Overnight index swaps are also now starting to price in a Fed rate cut by June of

2023

. However, a stagflationary environment could see a recession with longer-term yields moving back higher.
Investors that do want long-term bond exposure, or to make an early call on falling inflation or potential equity market hedging, may want to consider using a barbell approach. As discussed in our BMO ETFs: Views from the Desk Podcast this week, that strategy could include an

80

% allocation to the BMO Short Corporate Bond Index ETF (ZCS) alongside a

20

% allocation to the BMO Long Federal Bond Index ETF (ZFL). ZCS would allow investors to maximize yield on the short end, while ZFL would allow investors to target a potential risk-aversion and/​or recessionary trade.


1Calculation is weighted average of underlying securities in portfolio.


Any statement that necessarily depends on future events may be a forward-looking statement. Forward-looking statements are not guarantees of performance. They involve risks, uncertainties and assumptions. Although such statements are based on assumptions that are believed to be reasonable, there can be no assurance that actual results will not differ materially from expectations. Investors are cautioned not to rely unduly on any forward-looking statements. In connection with any forward-looking statements, investors should carefully consider the areas of risk described in the most recent simplified prospectus.
The viewpoints expressed by the Portfolio Manager represents their assessment of the markets at the time of publication. Those views are subject to change without notice at any time without any kind of notice. The information provided herein does not constitute a solicitation of an offer to buy, or an offer to sell securities nor should the information be relied upon as investment advice. Past performance is no guarantee of future results. This communication is intended for informational purposes only.
The communication is for information purposes. The information contained herein is not, and should not be construed as, investment, tax or legal advice to any party. Particular investments and/​or trading strategies should be evaluated relative to the individual's investment objectives and professional advice should be obtained with respect to any circumstance.
Distributions are not guaranteed and may fluctuate. Distribution rates may change without notice (up or down) depending on market conditions. The payment of distributions should not be confused with an investment fund's performance, rate of return or yield. If distributions paid by an investment fund are greater than the performance of the fund, your original investment will shrink. Distributions paid as a result of capital gains realized by an investment fund, and income and dividends earned by an investment fund, are taxable in your hands in the year they are paid. Your adjusted cost base will be reduced by the amount of any returns of capital. If your adjusted cost base goes below zero, you will have to pay capital gains tax on the amount below zero. Please refer to the distribution policy for BMO ETF set out in the prospectus.
Cash distributions, if any, on units of a BMO ETF (other than accumulating units or units subject to a distribution reinvestment plan) are expected to be paid primarily out of dividends or distributions, and other income or gains, received by the BMO ETF less the expenses of the BMO ETF, but may also consist of non-taxable amounts including returns of capital, which may be paid in the manager's sole discretion. To the extent that the expenses of a BMO ETF exceed the income generated by such BMO ETF in any given month, quarter or year, as the case may be, it is not expected that a monthly, quarterly, or annual distribution will be paid.
Commissions, management fees and expenses all may be associated with investments in BMO ETFs and ETF Series of the BMO Mutual Funds. Please read the ETF facts or prospectus of the relevant BMO ETF or ETF Series before investing. The indicated rates of return are the historical compounded total returns including changes in share or unit value and the reinvestment of all dividends or distributions and do not take into account the sales, redemption, distribution, optional charges or income tax payable by the unitholder that would have reduced returns BMO ETFs and ETF Series are not guaranteed, their values change frequently and past performance may not be repeated.
For a summary of the risks of an investment in the BMO ETFs or ETF Series of the BMO Mutual Funds, please see the specific risks set out in the prospectus. BMO ETFs and ETF Series trade like stocks, fluctuate in market value and may trade at a discount to their net asset value, which may increase the risk of loss. Distributions are not guaranteed and are subject to change and/​or elimination.
BMO ETFs are managed by BMO Asset Management Inc., which is an investment fund manager and a portfolio manager, and a separate legal entity from Bank of Montreal. ETF Series of the BMO Mutual Funds are managed by BMO Investments Inc., which is an investment fund manager and a separate legal entity from Bank of Montreal.
BMO Global Asset Management is a brand name that comprises BMO Asset Management Inc. and BMO Investments Inc.
®/TM Registered trademarks/​trademark of Bank of Montreal, used under licence.