Nasdaq's Extraordinary Rebalance, Explained
Jul. 17, 2023
Snapshot
The Nasdaq-100 index will undergo a special rebalance, effective prior to the market open on July 24,1 to redistribute the Tech Giants' weights and offset their dominance. What does it mean for investors?
Details
Why a rebalance is due
In an event that has only happened twice prior to this,2 the Nasdaq-100 Index will undergo a special off-cycle rebalance to redistribute its top holdings and remove some of the concentration in mega-cap Tech stocks. This may have come as a surprise to some, given the index is typically rebalanced quarterly with the latest having occurred in June — only a month prior.
This is, however, an extraordinary circumstance. The big six names in the index — Microsoft, Apple, Nvidia, Amazon, Alphabet and Tesla — rallied significantly year-to-date on the basis of artificial intelligence (AI) boom, making the Nasdaq-100 top-heavy. Going back to the late 1990s/​early 2000s, many Canadians will remember when Nortel was dominating the index and skewing returns. The index is now facing a similar situation.
Within the index's methodology,3 a special rebalance to reduce this concentration and ensure more diversification may be conducted under two conditions:
If the largest constituents exceed the weight of

24

%, or
If the aggregate of all stocks, which have an individual weight of more than

4

.

5

%, exceeds

48

% in aggregate.
Microsoft — being the top holding — would not meet the criterion, as it has a weight of around 12.8%, as of July 7, 2023.4 However, over time, the big six stocks crept up, accounting for more than half of the index's weight (50.89%, as of July 7, 2023).4
Nasdaq-100 Index Rebalancing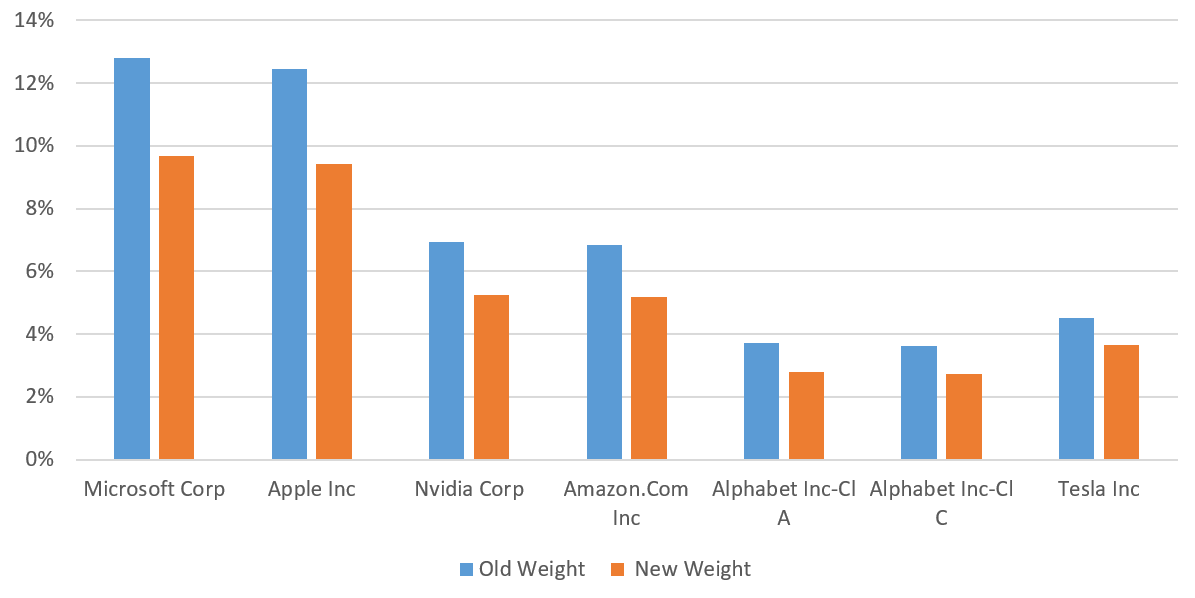 Advisors managing their own equity portfolios would need to manually adjust the allocations for each of their respective clients. However, the benefit of owning ETFs is that as the Nasdaq-100 reduces the concentration in its largest constituents, the BMO Nasdaq 100 Equity Index ETF (Ticker: ZNQ) and the BMO Nasdaq 100 Equity Index ETF (USD Units) (Ticker: ZNQ.U) will follow suit.
What's next?
The impact from this special rebalance will likely be small and short-lived, given the large-cap Tech stocks have ample liquidity. For a name like Nvidia, which is up nearly 190%4 from January to the beginning of July, clearly the stock has been in demand, which will now be potentially offset with the additional supply. These names, all part of the ​"Magnificent Seven" Tech stocks, tend to be AI-related — a theme we believe will stick around.
As the Nasdaq-100 looks to reduce its concentration, where one stock (or group of stocks) outperforms the rest of the index, it will, essentially, take some of the winnings off the table to reinvest across other names. And there are a lot of other names to be excited about within the index, including Intel, Pepsi, Costco and Activision, which can be a very good thing for investors given most buy ETFs or index-based products for their broad-based diversification.

1(2023, July 7). The Nasdaq-100 Index Special Rebalance to be Effective July 24, 2023. Nasdaq, Inc. The Nasdaq-100 Index Special Rebalance to be Effective July 24, 2023 | Nasdaq
2(2023, July 11). EXPLAINER-What is Nasdaq's special rebalancing and its impact? Nasdaq, Inc. https://www.nasdaq.com/articles/explainer-what-is-nasdaqs-special-rebalancing-and-its-impact
3(n.d.). Nasdaq Index Methodology - NASDAQ-100 INDEX®. Nasdaq, Inc. https://indexes.nasdaq.com/docs/Methodology_NDX.pdf
4Bloomberg, as of July 7, 2023.
5Morningstar, July 11, 2023.
Disclosure:
Advisor Use Only.
Commissions, management fees and expenses all may be associated with investments in exchange traded funds. Please read the ETF Facts or prospectus of the BMO ETFs before investing. The indicated rates of return are the historical annual compounded total returns including changes in unit value and reinvestment of all dividends or distributions and do not take into account sales, redemption, distribution or optional charges or income taxes payable by any unitholder that would have reduced returns. Exchange traded funds are not guaranteed, their values change frequently and past performance may not be repeated.
For a summary of the risks of an investment in the BMO ETFs, please see the specific risks set out in the BMO ETF's prospectus. BMO ETFs trade like stocks, fluctuate in market value and may trade at a discount to their net asset value, which may increase the risk of loss. Distributions are not guaranteed and are subject to change and/​or elimination.
BMO ETFs are managed by BMO Asset Management Inc., which is an investment fund manager and a portfolio manager, and a separate legal entity from Bank of Montreal.
Any statement that necessarily depends on future events may be a forward-looking statement. Forward-looking statements are not guarantees of performance. They involve risks, uncertainties and assumptions. Although such statements are based on assumptions that are believed to be reasonable, there can be no assurance that actual results will not differ materially from expectations. Investors are cautioned not to rely unduly on any forward-looking statements. In connection with any forward-looking statements, investors should carefully consider the areas of risk described in the most recent simplified prospectus.
The viewpoints expressed by the Portfolio Manager represents their assessment of the markets at the time of publication. Those views are subject to change without notice at any time without any kind of notice. The information provided herein does not constitute a solicitation of an offer to buy, or an offer to sell securities nor should the information be relied upon as investment advice. Past performance is no guarantee of future results. This communication is intended for informational purposes only.
The communication is for information purposes. The information contained herein is not, and should not be construed as, investment, tax or legal advice to any party. Particular investments and/​or trading strategies should be evaluated relative to the individual's investment objectives and professional advice should be obtained with respect to any circumstance.
BMO Global Asset Management is a brand name under which BMO Asset Management Inc. and BMO Investments Inc. operate.
®/TM Registered trademarks/​trademark of Bank of Montreal, used under licence.