Quarterly Fixed Income Strategy – Q
3
2022
This report highlights our fixed income positioning strategies for the third quarter beginning July 1, 2022 (calendar year).
Jul. 14, 2022
This report highlights our fixed income positioning strategies for the third quarter beginning July 1, 2022 (calendar year).
Duration
Interest rates continue to move higher as central banks, including both the Bank of Canada (BoC) and the U.S. Federal Reserve (Fed), look to tighten monetary policy aggressively. In addition to raising rates, both central banks have initiated their quantitative tightening process by letting bonds mature off their balance sheets. Year to date, the Canadian and U.S.

10

-year federal bonds have moved up

181

basis points (bps) and

148

bps, respectively.
In their quest to tame inflation, both central banks have utilized ​

"

jumbo rate hikes" by moving their overnight rate by more than a quarter-point at a time. Currently, Overnight Index Swaps (OIS) are pricing in

7

.

5

to

8

.

5

more quarter-point hikes before the end of the calendar year. Interestingly, the OIS market is now pricing in rate cuts by the Fed in June

2023

, suggesting the market believes inflation will eventually be moderated.
As outlined in our Portfolio Strategy Report and Quarterly Strategy Podcast, we anticipate demand to outstrip supply over the short term as the economy moves away from COVID-

19

lockdowns. Over the next six to eight months, inflation may be resilient, as supply will struggle to keep up with the increased demand as consumers ​

"

Revenge Buy" goods and services they've missed out on over the last two years.
Given short-term demand will outstrip supply, there is a risk that central banks may overshoot and cause a recession. In fact, that may be one of the more favourable outcomes as it would suggest that inflation will eventually be contained. This scenario is far better than central banks causing an economic slowdown while inflation remained high, leading to stagflation or a sequel to the Great Inflation we saw in the mid-

1960

s to the early

1980

s.*
While the consumer price index (CPI) in the G

7

nations shows no signs of letting up, there are encouraging signs such as lower commodity prices. However, given the geopolitical risk, there is no telling how Russia will play its cards when the weather cools and Europe needs its natural gas. Furthermore, there are frictional events such as lack of capital expenditure on fossil fuel infrastructure and stringent restrictions on the agriculture sector in certain regions that may keep commodity prices higher in the long run and thus inflation persistent.
The inversion of the

20

- to

30

-year yield curve in Canada and the U.S. may indicate that the market believes inflation will eventually succumb to the actions of the central banks. The middle of the curve may prove to be resilient, particularly if inflation remains sticky. As a result, we would utilize a barbell strategy by overweighting credit on the short-end of the curve and have a small portion in long-term government bonds as a recessionary hedge.
Credit

Spreads have widened in almost every type of credit. The impact of Russia's invasion of Ukraine is clear. But typically, higher rates signal a stronger economy and tighter credit spreads. This time it's different as both interest rate and credit risk, which usually counter each other, have become correlated. This is due to higher rates driven by efforts to curb inflation rather than economic growth.
Credit spreads have also widened on the back of the U.S. yield curve inverting on two separate occasions, with the

10

-year dipping below the

2

-year. Given the inversion of the yield curve tends to be a reliable recessionary indicator, credit spreads have followed suit in anticipation of a looming recession.
Corporate new issuance has come to a complete standstill, and with a limited new supply of inventory coming to the market, demand has not been strong enough to lead credit spreads tighter. Currently, Canadian investment grade credit remains at levels last seen in July of

2020

, when credit markets began to thaw in the wake of the pandemic-driven freeze of bond markets. While credit spreads could move notably higher, we believe that spreads at these levels are not sustainable over the long term.
Currency

The U.S. and Canadian dollars have been within a trading range of

1

.

25

−

1

.

30

this year. With both central banks aggressively tightening their overnight rate, it becomes a question of who becomes less hawkish sooner. With household debt in Canada at record levels, we may have more of a ceiling regarding how high rates can move. It's interesting, whereas, before the pandemic, everyone wanted a lower currency to have its exports competitive, now everyone wants a higher currency not to import inflation.
Delete/​Trim

Change (%)

Initiate/​Add

Change (%)

-25%

25%

ZHP
-

5

%
ZBI

3

%
ZTL

1

%
ZAG

1

%

Source: BMO Global Asset Management, Bloomberg.

Model Portfolio**
Ticker
ETF Name
Weight (%)
Duration*
Yield-to-Maturity
Mgmt. Fee
Exposure
Positioning
ZAG
BMO Aggregate Bond Index ETF

58

.

0

%

7

.

39

4

.

02

%

0

.

08

%
Canada
Core
ZSU
BMO Short-Term U.S. IG Corporate Bond Hedged to CAD Index ETF

25

.

0

%

2

.

75

4

.

23

%

0

.

25

%
United States
Core
ZTL
BMO Long-Term US Treasury Bond Index ETF

4

.

0

%

18

.

17

3

.

32

%

0

.

20

%
United States
Core
ZTIP.F
BMO Short-Term US TIPS Index ETF (Hedged Units)

5

.

0

%

2

.

54

2

.

68

%

0

.

15

%
United States
Non-Traditional
ZPR
BMO Laddered Preferred Share Index ETF

5

.

0

%

3

.

11

7

.

21

%

0

.

45

%
Canada
Non-Traditional
ZBI
BMO Canadian Bank Income Index ETF

3

.

0

%

2

.

46

4

.

81

%

0

.

25

%
Canada
Non-Traditional
Portfolio

100

.

0

%

6

.

06

4

.

16

%

0

.

15

%
Credit Summary**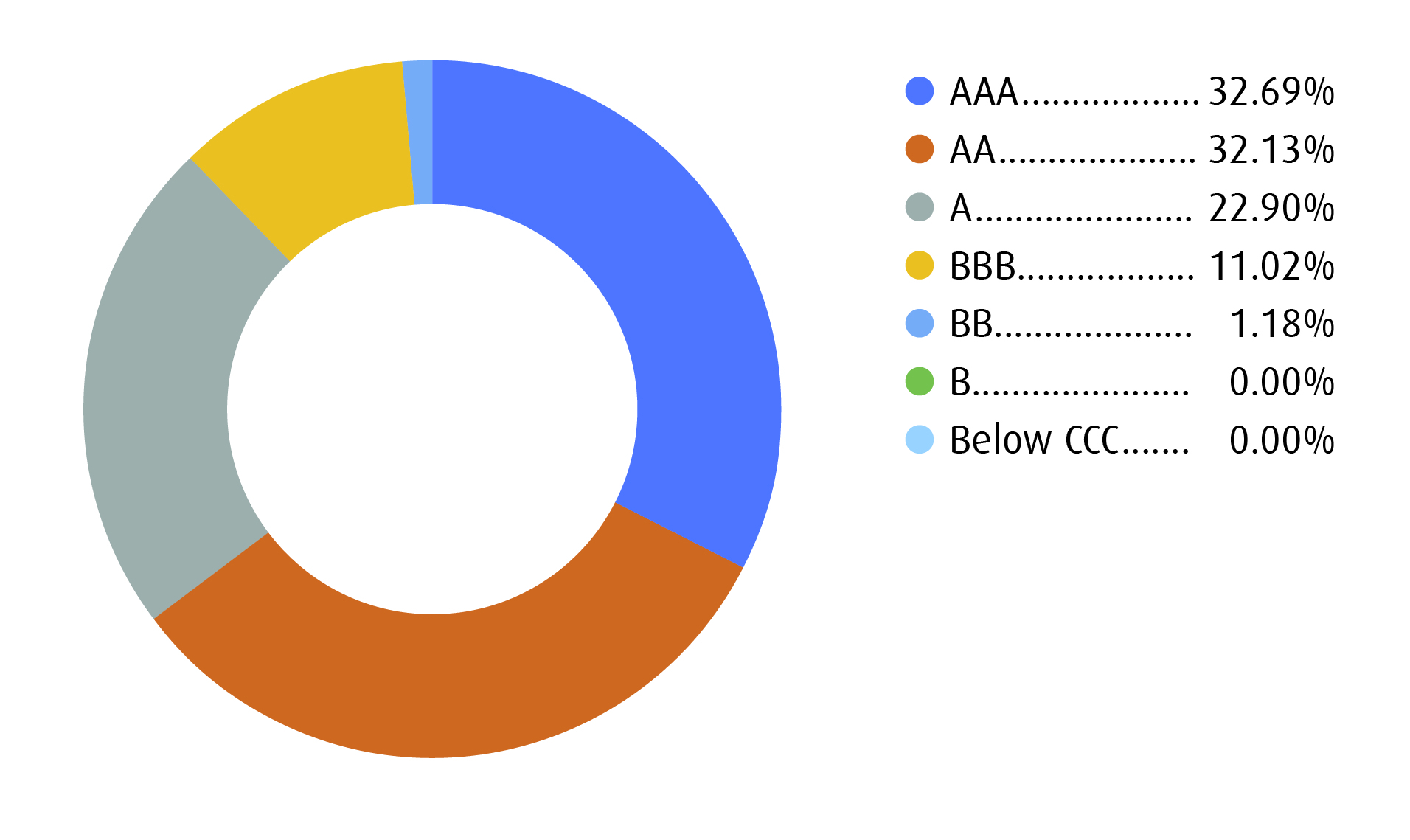 Term Summary**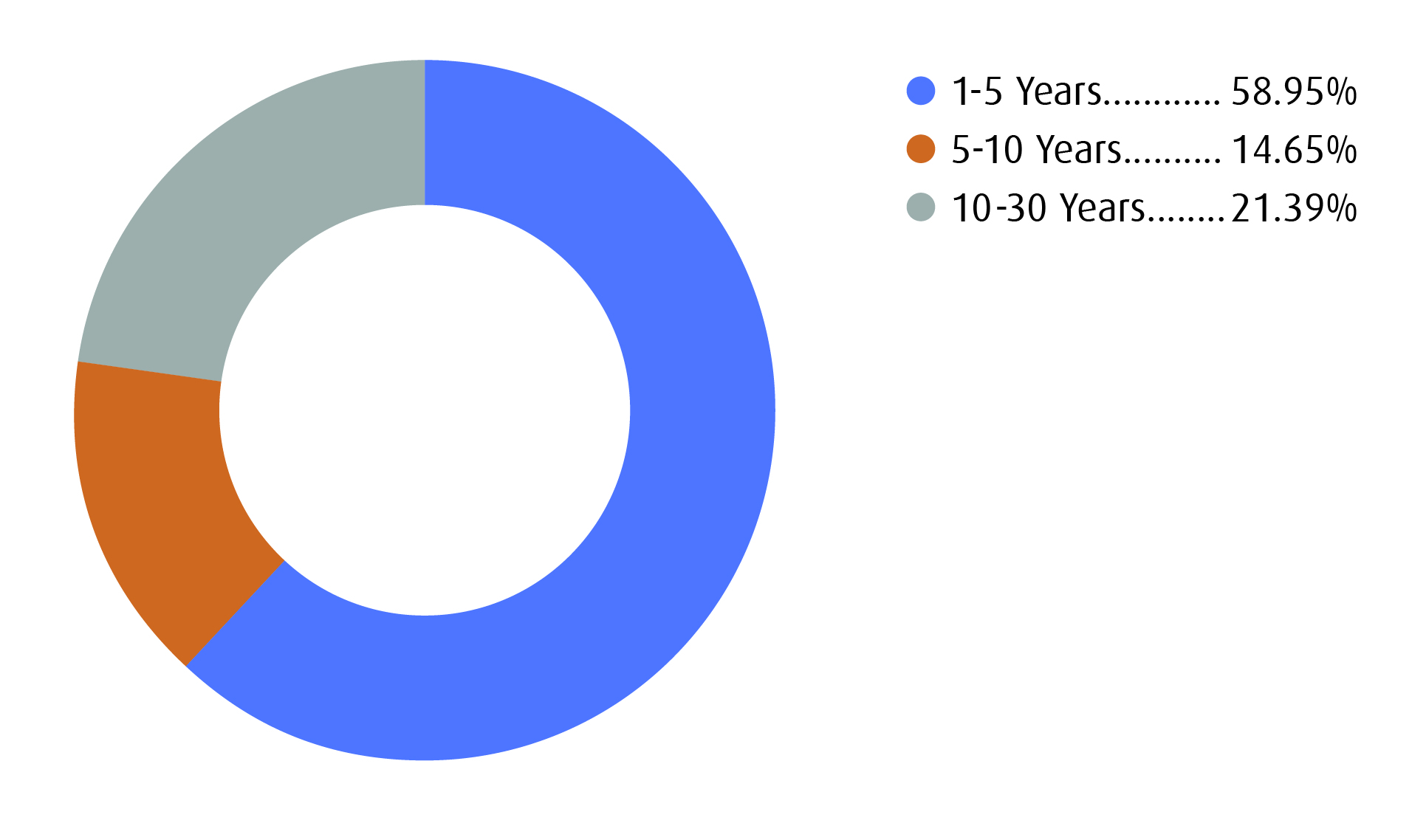 Source: BMO Global Asset Management, Bloomberg.
* https://www.federalreservehistory.org/essays/great-inflation.
**As of June 30, 2022. Please note yields will change from month to month based on market conditions.
The portfolio holdings are subject to change without notice. They are not recommendations to buy or sell any particular security. Weighted Average Yield to Maturity: The market value weighted average yield to maturity includes the coupon payments and any capital gain or loss that the investor will realize by holding the bonds to maturity.



Visit bmo.com/etfs or contact Client Services at 1−800−361−1392.
Any statement that necessarily depends on future events may be a forward-looking statement. Forward-looking statements are not guarantees of performance. They involve risks, uncertainties and assumptions. Although such statements are based on assumptions that are believed to be reasonable, there can be no assurance that actual results will not differ materially from expectations. Investors are cautioned not to rely unduly on any forward-looking statements. In connection with any forward-looking statements, investors should carefully consider the areas of risk described in the most recent simplified prospectus.
This communication is intended for informational purposes only and is not, and should not be construed as, investment and/​or tax advice to any individual. Particular investments and/​or trading strategies should be evaluated relative to each individual's circumstances. Individuals should seek the advice of professionals, as appropriate, regarding any particular investment. Investors cannot invest directly in an index.
The viewpoints expressed by the Portfolio Manager represents their assessment of the markets at the time of publication. Those views are subject to change without notice at any time without any kind of notice. The information provided herein does not constitute a solicitation of an offer to buy, or an offer to sell securities nor should the information be relied upon as investment advice. Past performance is no guarantee of future results. This communication is intended for informational purposes only.
Commissions, management fees and expenses all may be associated with investments in exchange traded funds. Please read the ETF Facts or prospectus of the BMO ETFs before investing. The indicated rates of return are the historical annual compounded total returns including changes in unit value and reinvestment of all dividends or distributions and do not take into account sales, redemption, distribution or optional charges or income taxes payable by any unitholder that would have reduced returns. Exchange traded funds are not guaranteed, their values change frequently and past performance may not be repeated.
For a summary of the risks of an investment in the BMO ETFs, please see the specific risks set out in the BMO ETF's prospectus. BMO ETFs trade like stocks, fluctuate in market value and may trade at a discount to their net asset value, which may increase the risk of loss. Distributions are not guaranteed and are subject to change and/​or elimination.
BMO ETFs are managed by BMO Asset Management Inc., which is an investment fund manager and a portfolio manager, and a separate legal entity from Bank of Montreal.
BMO Global Asset Management is a brand name that comprises BMO Asset Management Inc. and BMO Investments Inc.
®/™Registered trademarks/​trademark of Bank of Montreal, used under licence.