Russia-Ukraine Tensions and the Impact on ETFs - February
2022
After months of escalating tension, Russia launched a full-scale invasion into Ukraine on Thursday, which sent markets into turmoil. As an illustration of the heightened unease, market indicators, such as the VIX Index and various credit spread indicators, remain elevated.
Feb. 28, 2022
What Happened?
After months of escalating tension, Russia launched a full-scale invasion into Ukraine on Thursday, which sent markets into turmoil. As an illustration of the heightened unease, market indicators, such as the VIX Index and various credit spread indicators, remain elevated.
While not a NATO member, but a ​

"

partner country," Ukraine may be allowed to join the alliance sometime in the future. Existing NATO-member countries have supported Ukraine through donations and implementing sanctions on Russia, in order to retaliate without having to impose physical force. However, various scenarios exist that can cause NATO allies to be drawn in, increasing their involvement and leading to a conflict with much broader implication.
This adds further complexity to the markets, which already faced many uncertainties, due to concerns about inflation, central bank monetary policy tightening and the ongoing COVID-

19

pandemic.
VIX Index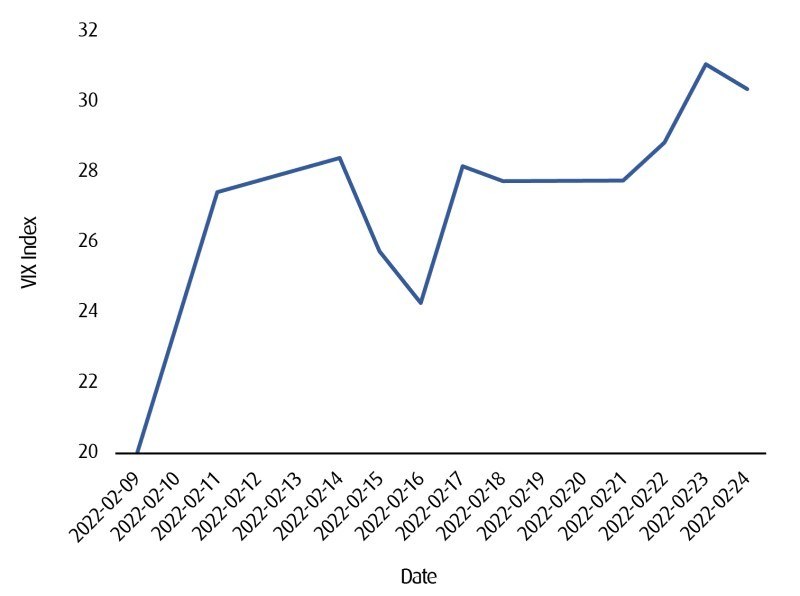 Source: Bloomberg, February 9, 2022 to February 24, 2022.
Markit CDX Emerging Markets Index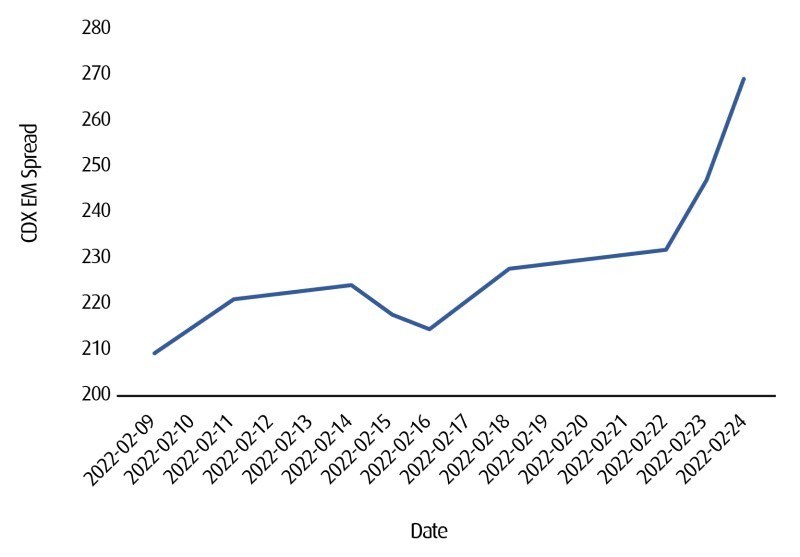 Source: Bloomberg, February 9, 2022 to February 24, 2022.
Brent Crude Oil (US$/Barrel)
Source: Bloomberg, February 9, 2022 to February 24, 2022.
Impact on the Market
At present time, it is difficult to determine the longer-term impact on the market. Some of the sanctions imposed on Russia are more immediate, while others will take time to take effect. Additionally, a response from Russia – either physical or non-physical – will result in different reactions by NATO countries. This is a quickly evolving event, with new information being priced into the market on an ongoing basis.
While the longer-term outlook remains uncertain, investors should focus on the following items.

Central banks tightening of monetary policy: In addition to quantitative tightening (QT), a number of G

7

central banks, including the U.S. Federal Reserve (Fed) and the Bank of Canada (BoC), are expected to make their first interest rate hikes since the pandemic. Multiple rate hikes have been anticipated for the calendar year; however, if the conflict continues or escalates, the path towards higher rates will be slower than many anticipate.
Ongoing inflation: With consumer price indexes (CPI) in Canada and the U.S. running far higher than their long-term target rates, both the BoC and the Fed have been well behind the curve. If the ongoing conflict limits how much the BoC and the Fed can tighten monetary conditions, inflation can continue to run unchecked.
Higher energy prices: Russia is a large exporter of oil to the global economy, and natural gas to many European nations. While President Biden has spared placing sanctions on Russia's oil exports, Russia can limit its own output as a means of retaliation. With energy already in short-supply, the U.S. is expected to release oil from its own strategic petroleum reserve (SPR), with other nations shipping Liquified Natural Gas (LNG) to Europe. This will further exacerbate the demand-and-supply equilibrium, as North American demand is expected to increase, and Germany is now holding off on greenlighting the Nord Stream

2

pipeline.
The Re-opening

2

.

0

: There are positive signs that suggests the pandemic is drawing to a close. With many countries beginning to treat COVID-

19

as endemic, mandates are being dropped and economies may now look to reopen. After two years of ongoing lockdowns, the pent-up demand could further disrupt already stressed supply chains and ​

"

just in time" inventory management.
What to Expect from ETFs:
Wider bid-offer spreads: The bid-offer spreads are a reflection of the underlying constituents of an ETF. With greater uncertainty in the markets, stocks, bonds and other assets will trade with a wider bid-offer spread, and as such, these wider spreads will be reflected in the ETF. Those ETFs that provide international exposure may also trade at wider spreads to reflect the impact of currency volatility. As already mentioned, the bid-offer spreads of an ETF are a reflection of the underlying assets.
One of the many benefits of ETFs is that they provide exposure to international markets during the investor's local trading hours. For those ETFs that trade when the underlying market is closed, expect spreads to widen, as it will be more difficult for market-makers to establish a fair value. ETFs will continue to be an efficient tool for investors to gain intraday liquidity during times of market volatility.
Ongoing liquidity: In previous times of crisis, ETFs have proven to provide liquidity with elevated volumes, as buyers and sellers use ETFs to gain efficient access to the various exposures. Using the March

2020

pandemic crisis as an example, both the BMO S&P/TSX Capped Composite Index ETF (ticker: ZCN) and the BMO Aggregate Bond Index ETF (ticker: ZAG) experienced much higher volume in the month of March

2020

, compared to the average volume they experienced in all of

2020

.
Period
BMO S&P/TSX Capped Composite Index ETF (ZCN)
BMO Aggregate Bond Index ETF (ZAG)
Average Volume in March

2020

1

,

686

,

900

2

,

221

,

175

Average Volume in All

2020

732

,

712

1

,

300

,

342

March

2020

Volume vs

2020

Volume

230

.

23

%

170

.

81

%
Source: Bloomberg.
When placing trades for ETFs, investors should keep the following best practices in mind:
Use limit orders: Limit orders allow investors to have a safeguard while placing trades. Investors should keep in mind that a limit order can be placed as aggressively or conservatively as an investor wishes.
Consider the time of the day: During periods of heightened volatility, markets tend to be more erratic at the beginning and end of the trading session, as new information is being digested by the market. If possible, investors may want to avoid trading right near the open and close of the session, as well as periods where the underlying market is closed.
Call your ETF provider or in-house ETF trade desk: Investors can call the BMO ETF trade hotline at

1

−

877

−

741

−

7263

in order to better source liquidity, increase the size offered on the bid and gain insight on where to place a limit order.
ETFs to Consider:
Equities:
Low Volatility ETFs: These funds provide a way for investors to remain invested in equities, but at a lower volatility level than the broader market. Our low volatility ETFs provide a diversified portfolio of stocks that exhibit a lower beta than the broader indices.
High-Quality ETFs: While quality has underperformed year-to-date, the recent sell-off provides an opportunity for investors to buy high-quality, blue-chip stocks at more reasonable levels. High-quality ETFs invests in companies that have competitive advantages by screening for stocks that have higher return on equity (ROE), low earnings variability and low financial leverage.
BMO MSCI Europe High Quality Hedged to CAD Index ETF (Ticker: ZEQ) BMO Equal Weight Oil & Gas Index ETF (Ticker: ZEO): With the global transition towards renewable energy, very limited capital expenditure has been dedicated towards traditional fossil fuels. With many countries already running at capacity, demand was already outstripping supply prior to the Russian invasion of Ukraine.
BMO Covered Call Technology ETF (Ticker: ZWT): The technology sector tends to be sensitive to higher interest rates, given some of the companies tend to be less mature. Investors can take advantage of the recent sell-off by focusing on the larger cap, more cash-rich technology companies, and monetizing volatility in the sector through a covered call overlay. The distribution yield on this ETF is

5

.

2

%.

1

BMO Premium Yield ETF (Ticker: ZPAY) and BMO Premium Yield ETF (Hedged Units) (Ticker: ZPAY.F): This ETF will hold a combination of T-bills and stocks, while selling both call and put options. High volatility means investors will collect bigger premiums through options sold, while also providing a systematic way for investors to ​

"

buy low and sell high" though the put and call options respectively being exercised. This ETF has a distribution yield of

6

.

5

%.

1
Fixed Income:
BMO Canadian Bank Income Index ETF (Ticker: ZBI): This recently launched ETF allows investors to focus exclusively on bonds and bond-like instruments issued by Canadian banks. Canadian banks are high-quality issuers, and adding instruments lower down in the capital structure can provide additional yield and protection against rising rates. This ETF is rebalanced to

60

% bank-issued bonds, and

40

% preferred shares, institutional preferred shares and Limited Recourse Capital Notes (LRCNs), all issued by Canadian banks.
BMO Short-Term US TIPS Index ETF (Ticker: ZTIP) and BMO Short-Term US TIPS Index ETF (Hedged Units) (Ticker: ZTIP.F): Provides exposure to U.S. TIPs with a term-to-maturity between

0

-

5

years. By focusing on the short-end of the curve, this ETF provides an inflation exposure, while limiting duration risk.
BMO High Yield US Corporate Bond Index ETF (Ticker: ZJK) and BMO High Yield US Corporate Bond Hedged to CAD Index ETF (Ticker: ZHY): The recent widening of credit spreads in the high-yield space, in addition to rising rates, may make it more difficult for issuers to refinance; however, its recent volatility may be an opportunity for longer-term investors, though we anticipate volatility to remain elevated.
1 BMO Global Asset Management and Bloomberg, as of February 24, 2022. Distribution yield is not an indicator of overall performance yields will change from month to month based on market conditions and is not guaranteed. See below for the full disclaimer.

Any statement that necessarily depends on future events may be a forward-looking statement. Forward-looking statements are not guarantees of performance. They involve risks, uncertainties and assumptions. Although such statements are based on assumptions that are believed to be reasonable, there can be no assurance that actual results will not differ materially from expectations. Investors are cautioned not to rely unduly on any forward-looking statements. In connection with any forward-looking statements, investors should carefully consider the areas of risk described in the most recent simplified prospectus.
The portfolio holdings are subject to change without notice and only represent a small percentage of portfolio holdings. They are not recommendations to buy or sell any particular security.
The viewpoints expressed by the Portfolio Manager represents their assessment of the markets at the time of publication. Those views are subject to change without notice at any time without any kind of notice. The information provided herein does not constitute a solicitation of an offer to buy, or an offer to sell securities nor should the information be relied upon as investment advice. Past performance is no guarantee of future results. This communication is intended for informational purposes only.
The communication is for information purposes. The information contained herein is not, and should not be construed as, investment, tax or legal advice to any party. Particular investments and/​or trading strategies should be evaluated relative to the individual's investment objectives and professional advice should be obtained with respect to any circumstance.
Annualized Distribution Yield: The most recent regular distribution, or expected distribution, (excluding additional year end distributions) annualized for frequency, divided by current NAV.
Distributions are not guaranteed and may fluctuate. Distribution rates may change without notice (up or down) depending on market conditions. The payment of distributions should not be confused with an investment fund's performance, rate of return or yield. If distributions paid by an investment fund are greater than the performance of the fund, your original investment will shrink. Distributions paid as a result of capital gains realized by an investment fund, and income and dividends earned by an investment fund, are taxable in your hands in the year they are paid. Your adjusted cost base will be reduced by the amount of any returns of capital. If your adjusted cost base goes below zero, you will have to pay capital gains tax on the amount below zero. Please refer to the distribution policy for BMO ETF set out in the prospectus.
Cash distributions, if any, on units of a BMO ETF (other than accumulating units or units subject to a distribution reinvestment plan) are expected to be paid primarily out of dividends or distributions, and other income or gains, received by the BMO ETF less the expenses of the BMO ETF, but may also consist of non-taxable amounts including returns of capital, which may be paid in the manager's sole discretion. To the extent that the expenses of a BMO ETF exceed the income generated by such BMO ETF in any given month, quarter or year, as the case may be, it is not expected that a monthly, quarterly, or annual distribution will be paid. Certain BMO ETFs have adopted a distribution reinvestment plan, which provides that a unitholder may elect to automatically reinvest all cash distributions paid on units held by that unitholder in additional units of the applicable BMO ETF in accordance with the terms of the distribution reinvestment plan. For further information, see Distribution Policy in the BMO ETFs' prospectus.
Commissions, management fees and expenses all may be associated with investments in exchange traded funds. Please read the ETF Facts or prospectus of the BMO ETFs before investing. Exchange traded funds are not guaranteed, their values change frequently and past performance may not be repeated.
For a summary of the risks of an investment in the BMO ETFs, please see the specific risks set out in the BMO ETF's prospectus. BMO ETFs trade like stocks, fluctuate in market value and may trade at a discount to their net asset value, which may increase the risk of loss. Distributions are not guaranteed and are subject to change and/​or elimination.
BMO ETFs are managed by BMO Asset Management Inc., which is an investment fund manager and a portfolio manager, and a separate legal entity from Bank of Montreal.
BMO Global Asset Management is a brand name that comprises BMO Asset Management Inc. and BMO Investments Inc.
®/TM Registered trade-marks/trade-mark of Bank of Montreal, used under licence.