The Canadian Energy Sector Remains Resilient
Jun. 10, 2022
Details:
BMO Equal Weight Oil & Gas Index ETF (Ticker: ZEO)
In July of

2021

, we featured a trade idea, entitled ​

"

Oil Making a Comeback," where we pointed out that energy stocks were attractively valued and gaining momentum, due to supply and demand imbalances. We recommended that our BMO Equal Weight Oil & Gas Index ETF (ticker: ZEO) was a way to capitalize on the trade, given that higher-cost Canadian producers would provide more a reaction towards higher oil prices. We followed that up several months later with another trade idea, ​

"

The Oil Trade Revisited," where we further highlighted that continued supply and demand imbalances would provide further headwinds.
Almost a year later, supply and demand imbalances in the energy space continue to be strained and, in fact, have only become worse. The ongoing conflict between Russia and Ukraine has further tightened the supply of other commodities, including oil and gas. Efforts to alleviate some of the supply shortages have so far been unsuccessful. These include the Biden Administration's release of some of the Strategic Petroleum Reserves (SPR), bringing the stockpile to its lowest level since

1987

. (It should also be noted that at some point, SPR inventory will have to be replenished, further increasing demand.) In addition, OPEC Plus agreed last week that it would ramp up supply more than originally expected for the months of July and August.
With summer fast approaching, potential hurricanes taking U.S. onshore and offshore operations offline could cause further supply to be taken offline. Additionally, while warmer spring weather has provided some relief for natural gas, demand can quickly come back when air conditioners are turned on with the summer heat.
While most of the aforementioned issues have been more short-term in nature, investors should note that the primary reasons we have underlying shortages in supply have been longer-term in nature. Many companies in the energy space have been reluctant to expand infrastructure, given the aggressive initiatives by global governments in moving to renewable energy. As a result, supply shortages will likely remain common until we can transition to clean energy, which is years if not decades away. In addition, regardless of whether we get a quick resolution to the conflict between Russia and Ukraine, or if it ends up dragging out into another cold war, its likely sanctions will remain in place, which would leave fossil fuels in short supply.
Trade idea: The BMO Equal Weight Oil & Gas Index ETF (ticker: ZEO)
It's becoming apparent that maintaining a green agenda and keeping the price of fossil fuels low is impossible with the current infrastructure. Although the controversial Keystone XL pipeline, is unlikely to be resurrected, Canadian energy companies are currently in discussions with the government to explore ways of increasing utilization of existing pipelines and exporting oil through railway. With the shortage in supply expected to continue for the foreseeable future, Canadian oil will likely be in high demand, especially given our close ties with our neighbours to the south.
Despite the run-up in the price of Canadian energy companies over the last year, many of the companies remain attractively valued, based on current price-to-earnings ratios on an absolute basis and relative to the broader S&P/TSX Composite Index. Higher stock prices in the energy sector have been supported by higher earnings per share growth. Furthermore, with free cash flow on the rise and the inability to invest in new infrastructure, it may be likely that many of these companies will have to increase its dividend yields.
It's been interesting to note that oil and the US dollar are usually negatively correlated, with oil prices tending to rise when the greenback declines and vice versa. The correlation between the two has now turned positive as the U.S. Federal Reserve continues its tightening cycle, while both inflationary and structural concerns have provided a lift to crude oil prices. This could be a positive, providing the U.S. with more purchasing power, particularly since they are net importers of Canadian energy.
We maintain that ZEO may offers an efficient way for investors to get exposure to Canadian energy companies. Given its equal weighting methodology, it provides investors with exposure to the sector without focusing on any specific name, allowing investors to get purer sector beta, while minimizing company-specific risk.
BMO Equal Weight Oil & Gas Index ETF delivering positive returns
Over the last year, ZEO has had a total return of 80.52%, compared to the 7.98% of the S&P/TSX Composite over the same period.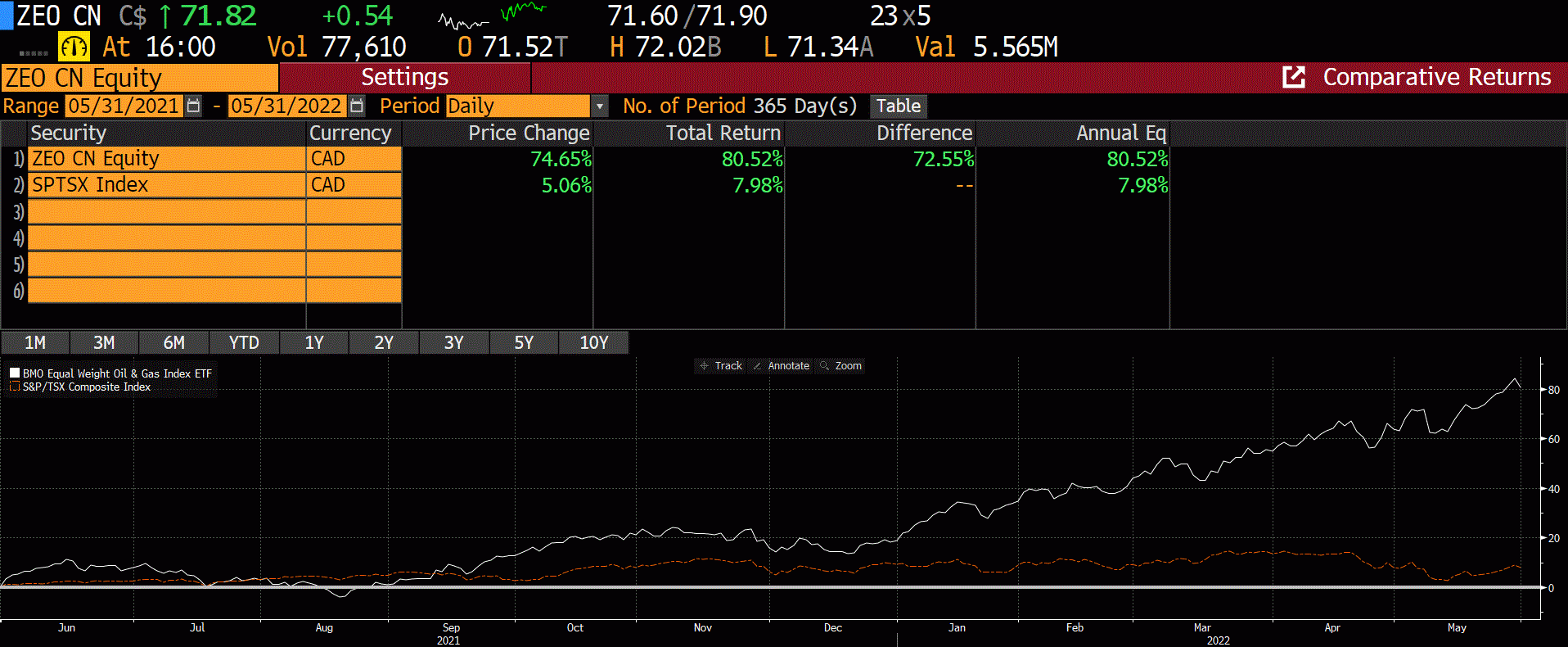 Annualized Performance

| | | | | | | |
| --- | --- | --- | --- | --- | --- | --- |
| Fund/​Index | 1-Year | 3-Year | 5-Year | 10-Year | Since Inception | Inception Date |
| ZEO | 80.52% | 23.48% | 9.29% | 4.46% | 2.91% | October 20, 2009 |
| S&P/TSX Composite | 7.98% | 12.25% | 9.44% | 9.29% | 7.95% | - |
Source: Bloomberg, BMO Global Asset Management, to May 31, 2022.
| | | | | | |
| --- | --- | --- | --- | --- | --- |
| Holding | Ticker | | Free Cash Flow Yield | Price to Earnings Ratio (P/E) | Dividend Yield |
| Tourmaline Oil Corp | TOU | | | | |
| Cenovus Energy Inc | CVE | | | | |
| Suncor Energy Inc | SU | | | | |
| Arc Resources Ltd | ARX | | | | |
| Imperial Oil Ltd | IMO | | | | |
| Keyera Corp | KEY | | | | |
| Pembina Pipeline Corp | PPL | | | | |
| Canadian Natural Resources | CNQ | | | | |
| Tc Energy Corp | TRP | | | | |
| Enbridge Inc | ENB | | | | |
| Average | | | | | |
| S&P/TSX COMPOSITE INDEX | | | | | |
Source: Bloomberg, BMO Asset Management Inc. as of June 6, 2022. Calculation on free cash flow yield is defined as Free Cash Flow/​Market Cap of company. The portfolio holdings are subject to change without notice and only represent a small percentage of portfolio holdings. They are not recommendations to buy or sell any particular security.
The correlation between WTI Oil and US Dollar Index has turned positive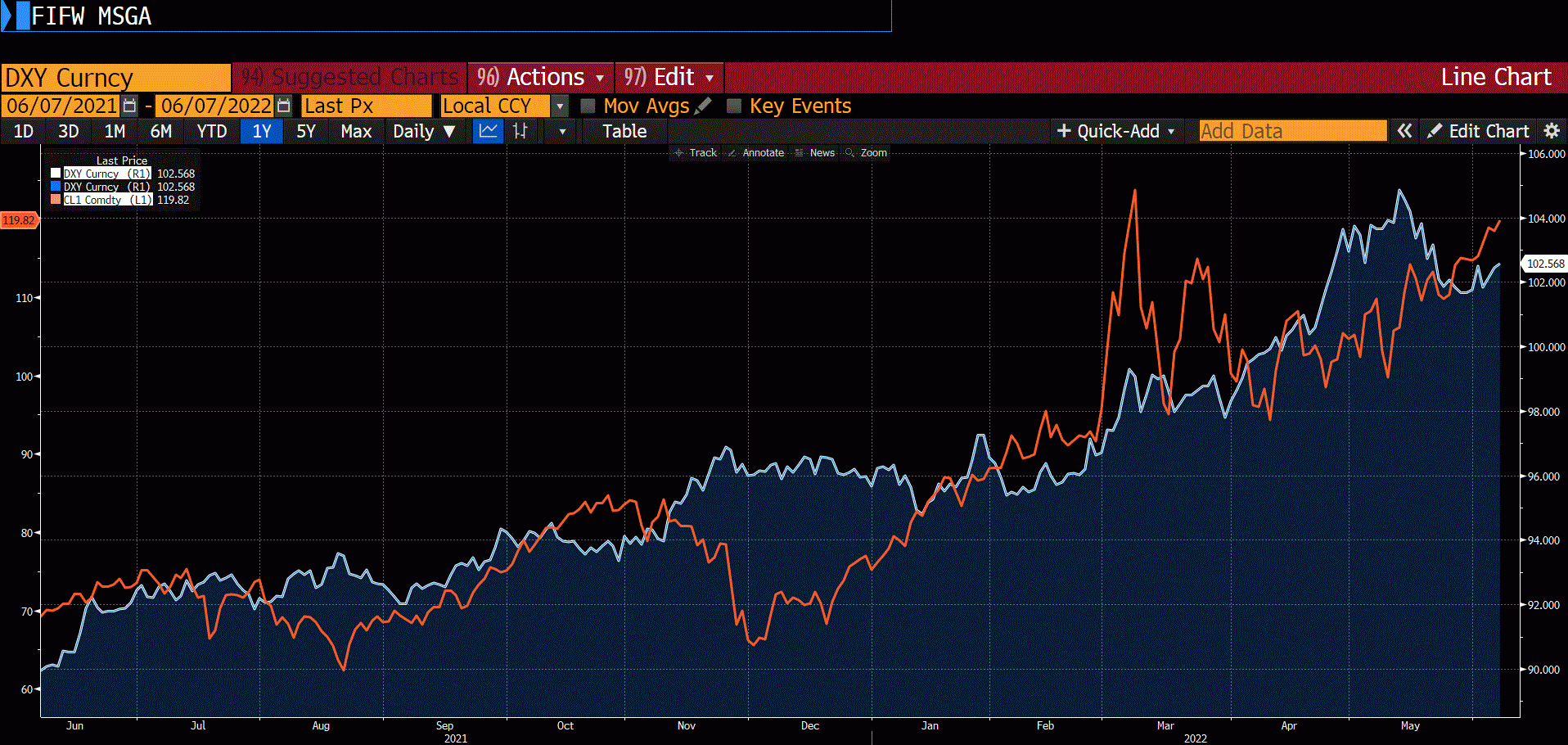 Disclosures:
Any statement that necessarily depends on future events may be a forward-looking statement. Forward-looking statements are not guarantees of performance. They involve risks, uncertainties and assumptions. Although such statements are based on assumptions that are believed to be reasonable, there can be no assurance that actual results will not differ materially from expectations. Investors are cautioned not to rely unduly on any forward-looking statements. In connection with any forward-looking statements, investors should carefully consider the areas of risk described in the most recent simplified prospectus.
The viewpoints expressed by the Portfolio Manager represents their assessment of the markets at the time of publication. Those views are subject to change without notice at any time without any kind of notice. The information provided herein does not constitute a solicitation of an offer to buy, or an offer to sell securities nor should the information be relied upon as investment advice. Past performance is no guarantee of future results. This communication is intended for informational purposes only.
The communication is for information purposes. The information contained herein is not, and should not be construed as, investment, tax or legal advice to any party. Particular investments and/​or trading strategies should be evaluated relative to the individual's investment objectives and professional advice should be obtained with respect to any circumstance.
Commissions, management fees and expenses all may be associated with investments in BMO ETFs and ETF Series of the BMO Mutual Funds. Please read the ETF facts or prospectus of the relevant BMO ETF or ETF Series before investing. The indicated rates of return are the historical compounded total returns including changes in share or unit value and the reinvestment of all dividends or distributions and do not take into account the sales, redemption, distribution, optional charges or income tax payable by the unitholder that would have reduced returns BMO ETFs and ETF Series are not guaranteed, their values change frequently and past performance may not be repeated.
For a summary of the risks of an investment in the BMO ETFs or ETF Series of the BMO Mutual Funds, please see the specific risks set out in the prospectus. BMO ETFs and ETF Series trade like stocks, fluctuate in market value and may trade at a discount to their net asset value, which may increase the risk of loss. Distributions are not guaranteed and are subject to change and/​or elimination.
BMO ETFs are managed by BMO Asset Management Inc., which is an investment fund manager and a portfolio manager, and a separate legal entity from Bank of Montreal. ETF Series of the BMO Mutual Funds are managed by BMO Investments Inc., which is an investment fund manager and a separate legal entity from Bank of Montreal.
BMO Global Asset Management is a brand name that comprises BMO Asset Management Inc. and BMO Investments Inc.
®/TM Registered trademarks/​trademark of Bank of Montreal, used under licence.