The Global Transition to Clean Energy is Gaining Momentum
Aug. 15, 2022
Details:
ZCLN - BMO Clean Energy Index ETF (ticker: ZCLN)
GRNI - BMO Brookfield Global Renewable Infrastructure Fund ETF Series (ticker: GRNI)
The Inflation Reduction Act was passed recently and nearly $370 billion is dedicated to clean energy and combatting climate change. This package is the largest climate investment in U.S. history and will pave the way for the U.S. to reach their 2030 goal of reducing carbon emissions by 40%. Having the U.S on board with this type of stimulus is good news for the battle against climate change as the United States is the second largest carbon emitter in the world.
Governments around the world have introduced plans to reduce the effects of climate change including carbon tariffs, and a variety of policies aimed at achieving net-zero emissions by the year 2050. These efforts are rapidly changing the global power industry, with renewables presenting an opportunity for investors, as carbon-free and sustainable energy sources are positioned well to increase output over the coming decades. ** As it currently stands energy creation around the world from renewable sources stands at approximately 10% as the majority of energy production is still coming from traditional fossil fuels including oil, coal, and natural gas. As governments around the world put an emphasis on the transition away from fossil fuels the share from renewable sources is expected to contribute a much larger share of energy production.
For investors looking to capture growth and the transition to renewable energy sources consider allocating towards ZCLN - BMO Clean Energy Index ETF and GRNI - BMO Brookfield Global Renewables Infrastructure Fund ETF Series.
Why now?
Most recently clean energy stocks have been gaining momentum vs traditional fossil fuel stocks
Clean Energy has been gaining momentum on the

50

-day,

100

-day and

200

-Day moving average*
Short term momentum indicators such as the Relative Strength Index and the Moving Average Convergence Divergence show ZCLN has been gaining momentum
Clean energy is a long-term trend with global governments having aggressive emission targets for the near future
Month to date, there has been institutional interest with the momentum in ZCLN and has resulted with an increase in net new unit creations
Now could also be a great time to invest in Renewables Infrastructure as the sector is at an inflection point as the world transitions to cleaner, more affordable, and more efficient sources of power generation, allocating capital towards GRNI - BMO Brookfield Global Renewables Infrastructure Fund ETF Series allows investors to gain exposure towards a concentrated group of industry leaders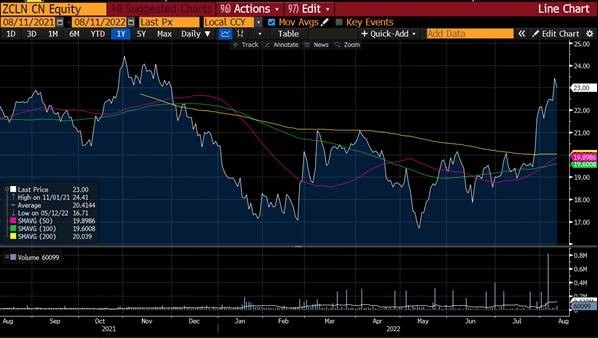 Shares of primary energy sources in event of a rapid transition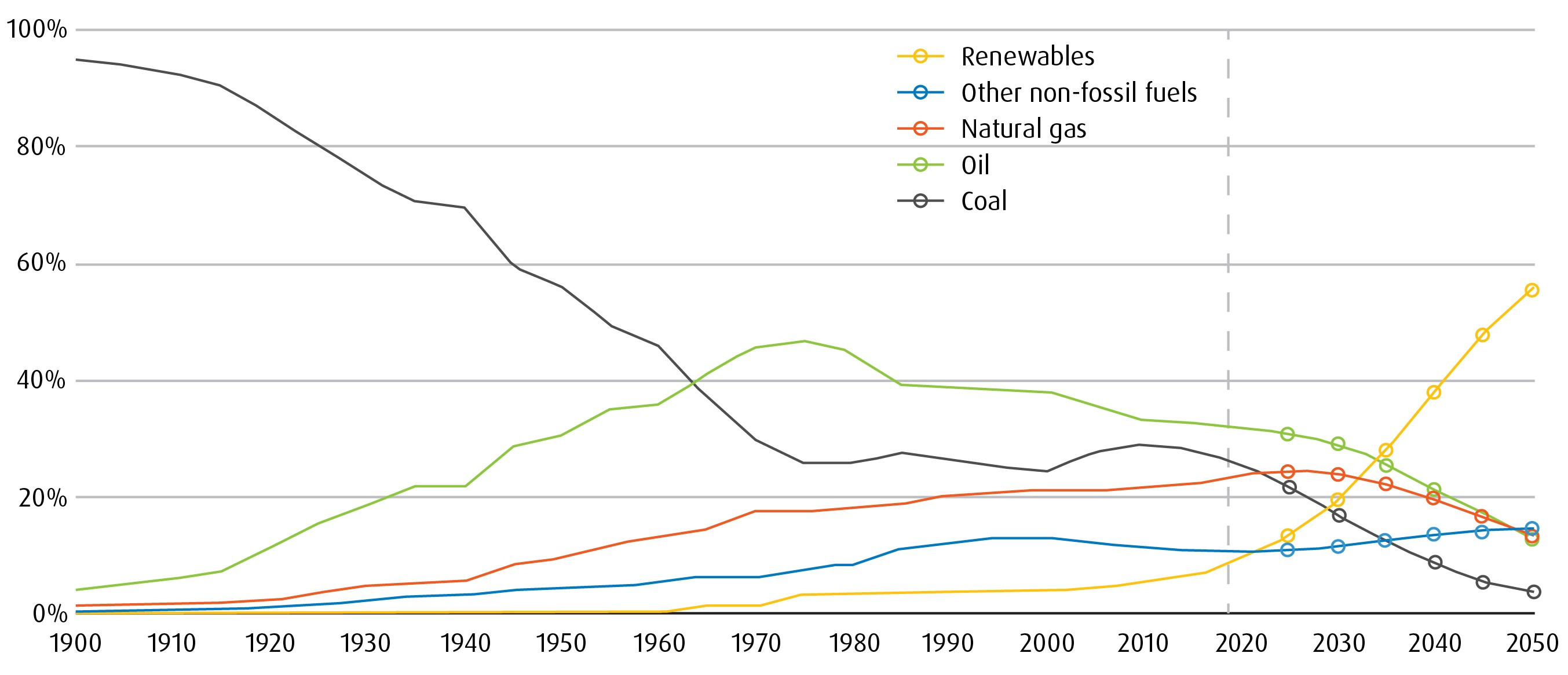 BMO Brookfield Global
Renewables Infrastructure Fund

GRNI

Distribution Yield: N/A | Q
Mgmt. Fee: 0.8%
Risk Rating: Medium

BMO Clean Energy
Index Fund

ZCLN

Distribution Yield: 0.8% | A
Mgmt. Fee: 0.35%
Risk Rating: High
Any statement that necessarily depends on future events may be a forward-looking statement. Forward-looking statements are not guarantees of performance. They involve risks, uncertainties and assumptions. Although such statements are based on assumptions that are believed to be reasonable, there can be no assurance that actual results will not differ materially from expectations. Investors are cautioned not to rely unduly on any forward-looking statements. In connection with any forward-looking statements, investors should carefully consider the areas of risk described in the most recent simplified prospectus. The viewpoints expressed by the Portfolio Manager represents their assessment of the markets at the time of publication. Those views are subject to change without notice at any time without any kind of notice. The information provided herein does not constitute a solicitation of an offer to buy, or an offer to sell securities nor should the information be relied upon as investment advice. Past performance is no guarantee of future results.
This communication is intended for informational purposes only. The communication is for information purposes. The information contained herein is not, and should not be construed as, investment, tax or legal advice to any party. Particular investments and/​or trading strategies should be evaluated relative to the individual's investment objectives and professional advice should be obtained with respect to any circumstance. The BMO ETFs or securities referred to herein are not sponsored, endorsed or promoted by MSCI Inc. ("MSCI"), and MSCI bears no liability with respect to any such BMO ETFs or securities or any index on which such BMO ETFs or securities are based. The prospectus of the BMO ETFs contains a more detailed description of the limited relationship MSCI has with BMO Asset Management Inc. and any related BMO ETFs.
NASDAQ®, and NASDAQ-100 Index® or NASDAQ-100 Index® Hedged to CAD, are registered trademarks of Nasdaq, Inc. (which with its affiliates is referred to as the​"Corporations") and are licensed for use by the Manager. The ETF(s) have not been passed on by the Corporations as to their legality or suitability. The ETF(s) are not issued, endorsed, sold, or promoted by the Corporations. The Corporations make no warranties and bear no liability with respect to the ETF(s).
S&P 500® is a registered trademarks of Standard & Poor's Financial Services LLC ("S&P") and​"TSX" is a trademark of TSX Inc. These trademarks have been licensed for use by S&P Dow Jones Indices LLC and sublicensed to BMO Asset Management Inc. in connection with ZSP. The BMO S&P 500 Index ETF is not sponsored, endorsed, sold or promoted by S&P Dow Jones LLC, S&P, TSX, or their respective affiliates and S&P Dow Jones Indices LLC, S&P, TSX and their affiliates make no representation regarding the advisability of trading or investing in such BMO ETF(s).
Commissions, management fees and expenses all may be associated with investments in exchange traded funds. Please read the ETF Facts or prospectus of the BMO ETFs before investing. Exchange traded funds are not guaranteed, their values change frequently and past performance may not be repeated. For a summary of the risks of an investment in the BMO ETFs, please see the specific risks set out in the BMO ETF's prospectus. BMO ETFs trade like stocks, fluctuate in market value and may trade at a discount to their net asset value, which may increase the risk of loss. Distributions are not guaranteed and are subject to change and/​or elimination. BMO ETFs are managed by BMO Asset Management Inc., which is an investment fund manager and a portfolio manager, and a separate legal entity from Bank of Montreal.
BMO Global Asset Management is a brand name that comprises BMO Asset Management Inc. and BMO Investments Inc.
®/TM Registered trademarks/​trademark of Bank of Montreal, used under licence.