We Have Lift-Off
Mar. 28, 2022
For the first time since the onset of the pandemic, both the Bank of Canada (BoC) and the U.S. Federal Reserve (Fed) have raised their overnight rates at their recent March meetings. The overnight rate for both central banks now sit at 0.50%, marking what's widely anticipated to be the beginning of a series of further rate hikes. Based on the Overnight Index Swaps (OIS), the market is currently pricing in moves by the BoC and Fed of seven and six further quarter-points respectively for the remainder of the calendar year. It should be noted that there are only six remaining meetings for 2022, which opens the door for hikes of more than a quarter point at some of these meetings. This of course assumes that the current market assumptions are correct, which we believe is a bold one given all the unknown variables that could impact the broader economy.
Details:
Bank of Canada Interest Rate Expectations for 2022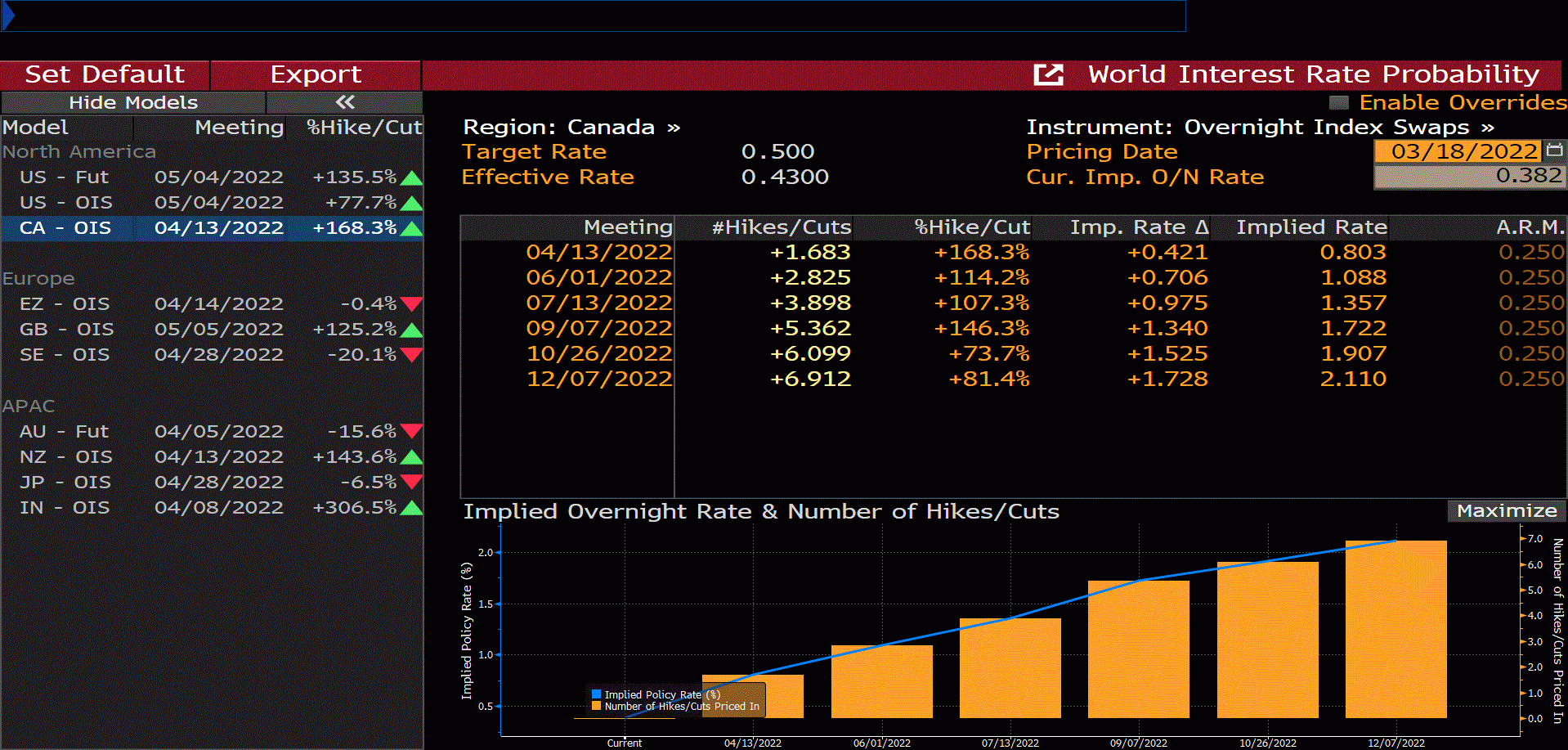 Source: Bloomberg (WIRP calculated using OIS as of March 18, 2022).
U.S. Federal Reserve Interest Rate Expectations for 2022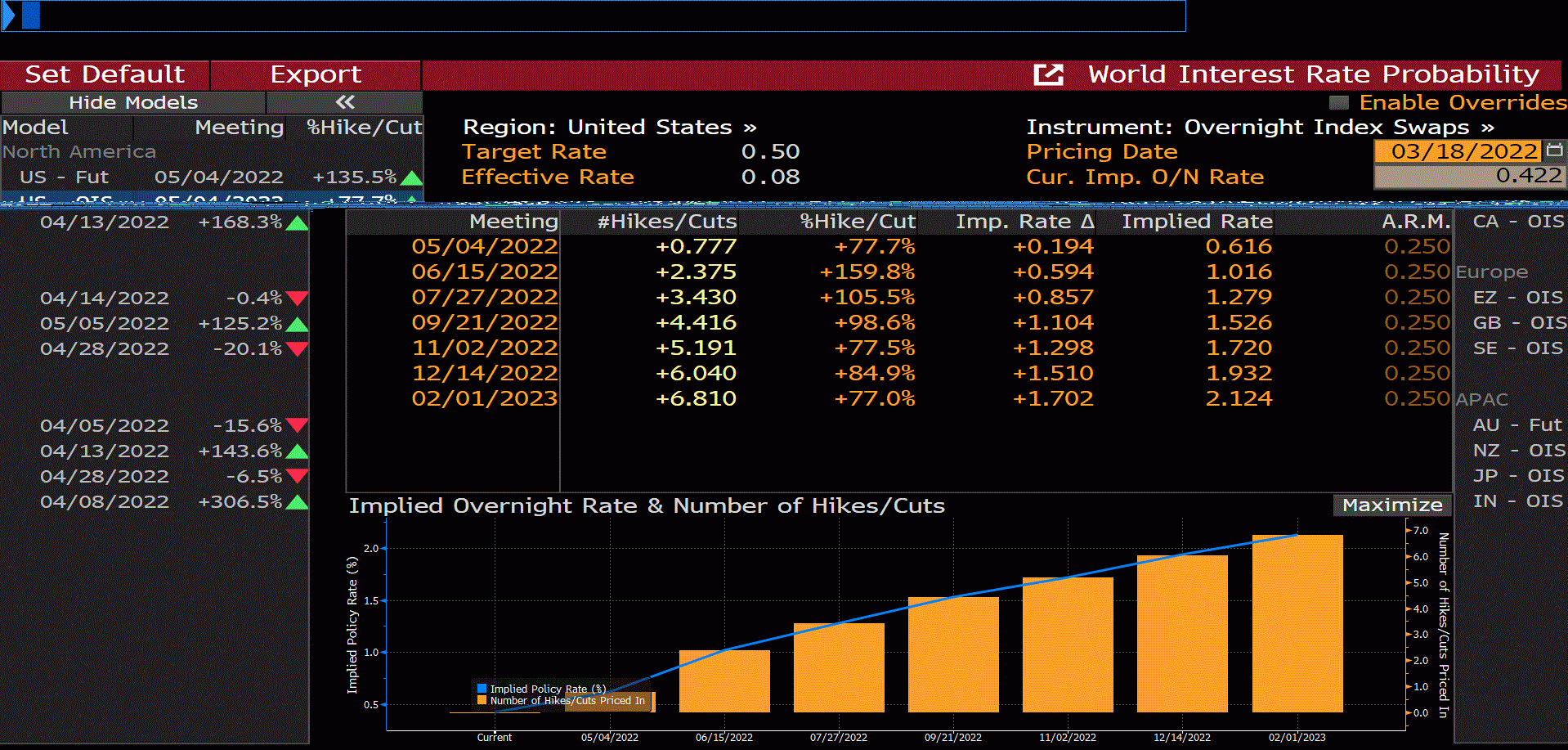 Source: Bloomberg (WIRP calculated using OIS as of March 18, 2022).
Reading the Yield Curve
The volatility in interest rates has notably increased since Russia invaded the Ukraine. This has been due to various news headlines, each of which has had opposing effects on the yield curve. On the one hand, a war that has the potential to escalate has led investors to pare back risk and move towards safe havens. This flight to safety has led to an increase in demand for federal bonds, which initially caused a flattening of the yield curve. More recently however, inflation continues to not only rise but also gain momentum, as evidenced by recent figures for the consumer price index (CPI).1 With inflation showing no signs of slowing down, investors are demanding to be compensated with higher yields for taking on any kind of term risk. Furthermore, unemployment continues to grind lower, which suggests that slack has been removed from the economy, paving the way for further central bank tightening. Both inflation and the expectation of further rate hikes have placed upward pressure on interest rates, which in combination with the flight to safety has created a push and pull effect on interest rates. This has resulted in the recent up-tick in interest rate volatility.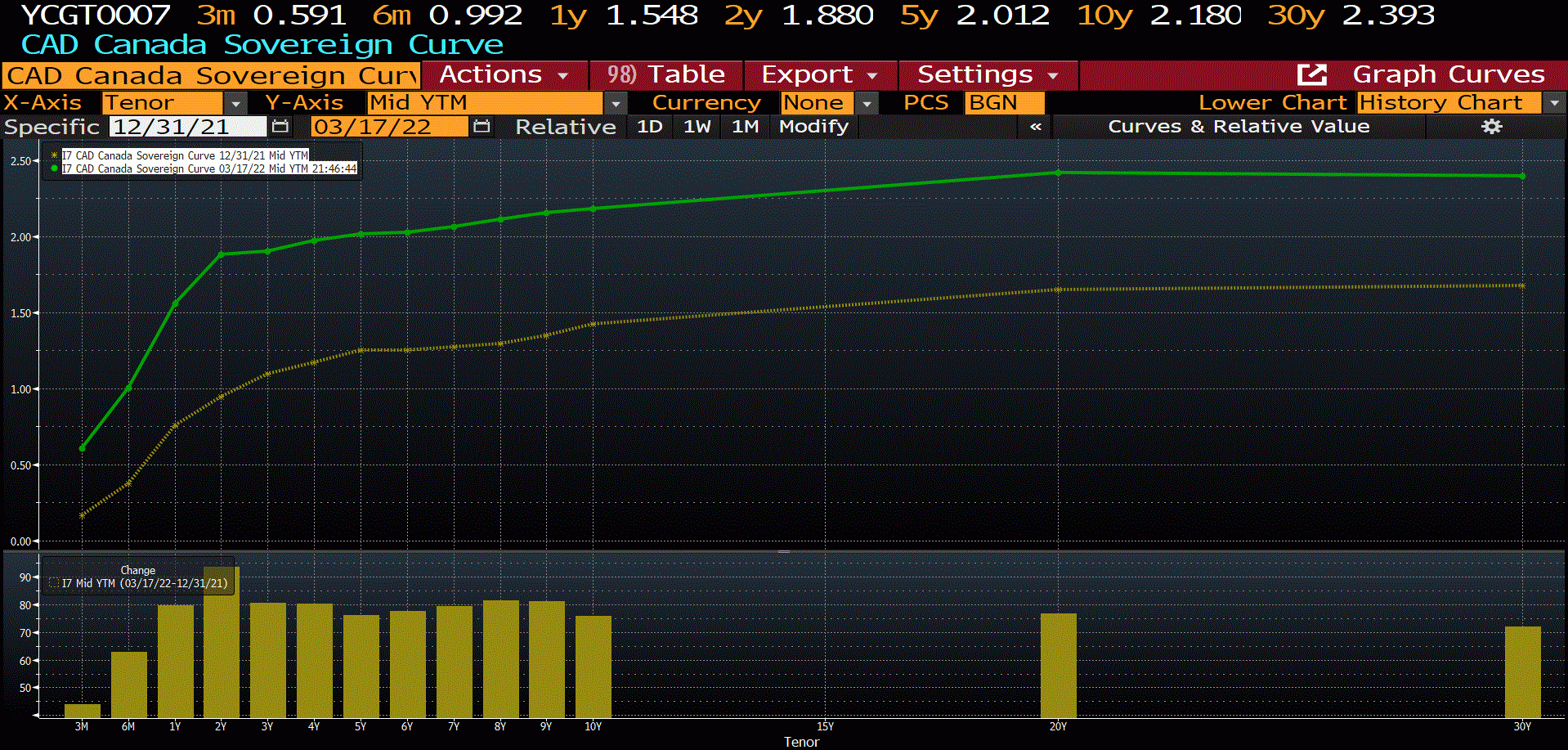 Source: Bloomberg (Canadian Sovereign Yield Curve, December 31, 2021 to March 17, 2022).
While the current expectations indicate that the BoC and the Fed will be extremely hawkish, there are many ways in which the remainder of the year can unfold. Here are some considerations to keep in mind.
The ongoing Russia-Ukraine conflict could limit how aggressively either central bank acts. If the demand for safe havens continues to increase, yields across the term structure could flatten out. Continued hikes by the central bank could then cause an inversion of the yield curve, which could potentially send the economy into a recession.
Both the BoC and Fed had to make a move, despite concerns of an escalating conflict. With both central banks behind the curve, they needed to make a move in order to gain credibility. Further rate hikes in the coming months would then allow the banks to pause and wait for the effects of this tighter monetary policy to set in. A number of successive hikes also allows the central bank to use forward guidance to potentially reign in inflation without putting the economy at risk.
It may be better to undershoot than overshoot. While inflation is an ongoing problem, rising prices have not been entirely driven by monetary and fiscal stimulus. Lockdowns, shortages and changes in inventory management have led to supply-side constraints, which cannot be solved through higher interest rates. As such, overtightening may cause economic growth to slow without solving inflation, thus leaving us in a worse scenario (i.e., stagflation). Both the BoC and the Fed may start aggressively and then take a more cautious approach as the year progresses.
So many things can change, which could lead the central banks to be less hawkish. While the market is anticipating successive rate hikes from here to the end of the calendar year, a lot can change. Any potential headline risk that is not currently priced into the market could take a rate hike or two off the table.
Portfolio Positioning Themes Using ETFs
Any statement that necessarily depends on future events may be a forward-looking statement. Forward-looking statements are not guarantees of performance. They involve risks, uncertainties and assumptions. Although such statements are based on assumptions that are believed to be reasonable, there can be no assurance that actual results will not differ materially from expectations. Investors are cautioned not to rely unduly on any forward-looking statements. In connection with any forward-looking statements, investors should carefully consider the areas of risk described in the most recent simplified prospectus.
The portfolio holdings are subject to change without notice and only represent a small percentage of portfolio holdings. They are not recommendations to buy or sell any particular security.
The viewpoints expressed by the Portfolio Manager represents their assessment of the markets at the time of publication. Those views are subject to change without notice at any time without any kind of notice. The information provided herein does not constitute a solicitation of an offer to buy, or an offer to sell securities nor should the information be relied upon as investment advice. Past performance is no guarantee of future results. This communication is intended for informational purposes only.
ZBI is not sponsored, promoted, sold or supported in any other manner by Solactive AG nor does Solactive AG offer any express or implicit guarantee or assurance either with regard to the results of using the Index and/​or Index trademark or the Index Price at any time or in any other respect.
S&P®, S&P/TSX Capped Composite®, S&P 500® are registered trademarks of Standard & Poor's Financial Services LLC ("S&P") and ​"TSX" is a trademark of TSX Inc. These trademarks have been licensed for use by S&P Dow Jones Indices LLC and sublicensed to BMO Asset Management Inc. in connection with the above mentioned BMO ETFs. These BMO ETFs are not sponsored, endorsed, sold or promoted by S&P Dow Jones LLC, S&P, TSX, or their respective affiliates and
S&P Dow Jones Indices LLC, S&P, TSX and their affiliates make no representation regarding the advisability of trading or investing in such BMO ETF(s).
The communication is for information purposes. The information contained herein is not, and should not be construed as, investment, tax or legal advice to any party. Particular investments and/​or trading strategies should be evaluated relative to the individual's investment objectives and professional advice should be obtained with respect to any circumstance.
Commissions, management fees and expenses all may be associated with investments in exchange traded funds. Please read the ETF Facts or prospectus of the BMO ETFs before investing. Exchange traded funds are not guaranteed, their values change frequently and past performance may not be repeated.
For a summary of the risks of an investment in the BMO ETFs, please see the specific risks set out in the BMO ETF's prospectus. BMO ETFs trade like stocks, fluctuate in market value and may trade at a discount to their net asset value, which may increase the risk of loss. Distributions are not guaranteed and are subject to change and/​or elimination.
BMO ETFs are managed by BMO Asset Management Inc., which is an investment fund manager and a portfolio manager, and a separate legal entity from Bank of Montreal.
BMO Global Asset Management is a brand name that comprises BMO Asset Management Inc. and BMO Investments Inc.
®/TM Registered trade-marks/trade-mark of Bank of Montreal, used under licence.