ZEB: Banking on Banks
Nov. 28, 2022
Canadian banks have underperformed the broader Canadian equity market this year, with the BMO Equal Weight Banks Index ETF (ZEB) delivering -

3

.

3

% year-to-date on a total return basis compared to -

1

.

8

% for the S&P/TSX Composite (TSX).

1

While the Canadian banks have rallied over the last month, the underperformance in the group has been due to the banks increasing their respective loan loss provisions. Rising interest rates have become a concern for investors, as it would place greater pressure on borrowers. With household debt in Canada still at historically high levels, it could lead to a greater number of defaults on loans. In addition, higher rates would place pressure on borrowers with variable-rate mortgages and even for those on fixed rates who need to refinance at higher rates in the coming year.
However, when taking a closer look at non-performing loans at the ​

"

Big Six" banks, levels have not increased in recent months, ranging between only

32

and

69

bps of the total loan portfolio (see chart below). The recent underperformance of the banks and their valuations would suggest the bad news has already been priced into the shares.
The banks currently trade at a price-to-earnings ratio of

10

.

1

x compared to

13

.

5

x for the TSX, which is a further illustration of the negatives already reflected in share prices. Investors can view this as buying the banks at a -

25

.

2

% discount to the broader market. Moreover, the banks also trade at a steeper loss relative to the group's

52

-week highs compared to the TSX.
Canadian Banks Trading at a Discount to the S&P/TSX Composite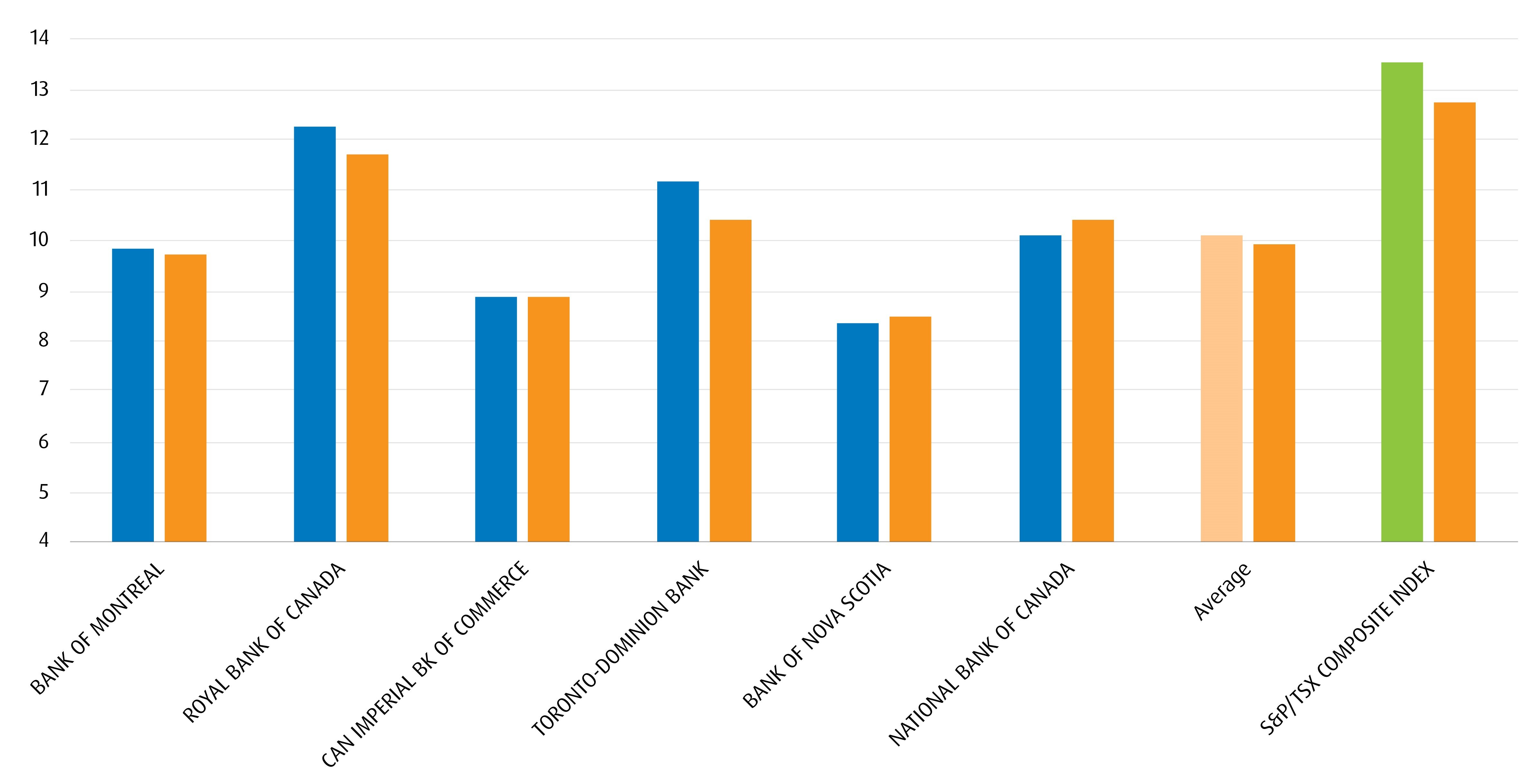 Discount to 52-Week High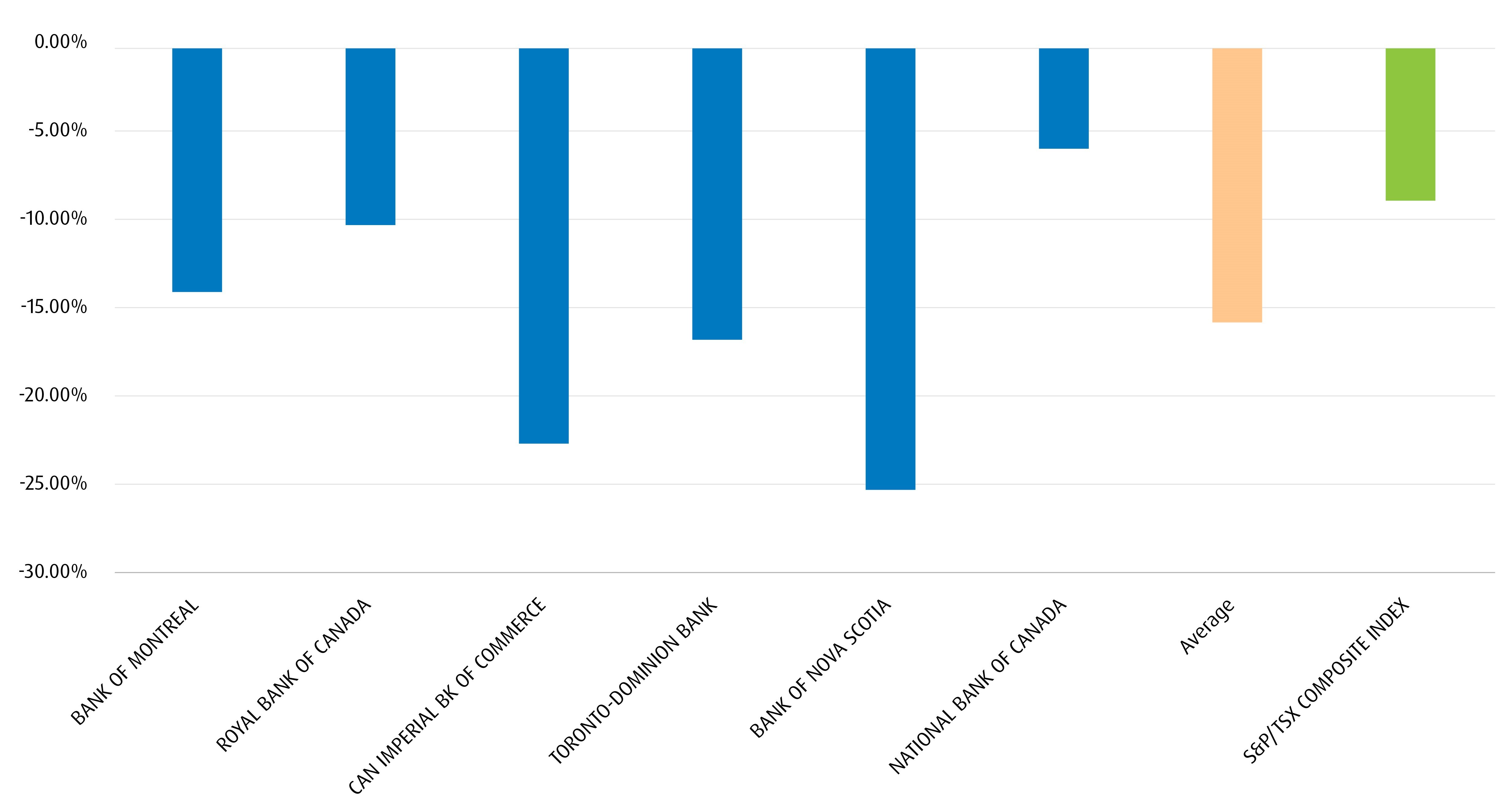 Furthermore, Canadian banks remain well capitalized. The Tier-

1

capital ratio is a core measure of a bank's financial strength used by regulators. Canadian banks maintain ratios that not only easily meet the Basel-

3

requirements, but also the more conservative OSFI minimum requirements. This suggests that Canadian banks are well-capitalized and have significant buffer to weather a potential downturn.
Name
Ticker
Non-Performing
Loans to Total Loans
Tier

1

Capital Ratio
BANK OF MONTREAL

BMO

0

.

47

%

15

.

4

%
ROYAL BANK OF CANADA
RY

0

.

32

%

14

.

9

%
CAN IMPERIAL BK OF COMMERCE
CM

0

.

40

%

14

.

1

%

TORONTO-DOMINION BANK

TD

0

.

32

%

16

.

5

%
BANK OF NOVA SCOTIA
BNS

0

.

69

%

13

.

9

%
NATIONAL BANK OF CANADA
NA

0

.

37

%

15

.

0

%
Source: Bloomberg, BMO Global Asset Management, as of November 23, 2022.
Canadian banks currently have an average yield of

4

.

4

% and have a strong history of paying dividends. The last dividend cut by a ​

"

Big Six" Canadian bank was in

1992

.
Although Canadian banks have rallied in recent weeks, current valuations still suggest they are deeply discounted. The BMO Equal Weight Banks Index ETF (ZEB) allows investors to efficiently access the Big Six Canadian banks, which arguably are some of the best businesses in the world. Significant barriers to entry, being conservatively managed and having well diversified business lines has led the group historically to significantly outperform the broader TSX.
Canadian Banks Have Historically Significantly Outperformed the Broader TSX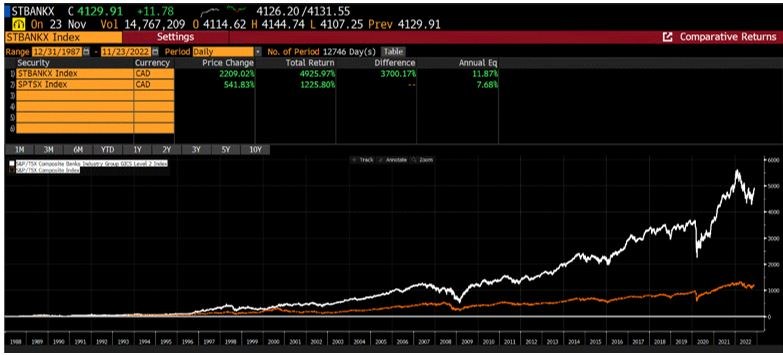 1 Bloomberg, BMO Global Asset Management; annualized returns as of November 23, 2022; 1-month: 8.5%, YTD: -3.3%, 1-year: -2.9%, 3-year: 10.7%, 5-year: 8.3%, SI (October 20, 2009): 11.0%.
Disclaimers:
The viewpoints expressed by the Portfolio Manager represents their assessment of the markets at the time of publication. Those views are subject to change without notice at any time without any kind of notice. The information provided herein does not constitute a solicitation of an offer to buy, or an offer to sell securities nor should the information be relied upon as investment advice. Past performance is no guarantee of future results. This communication is intended for informational purposes only.
Commissions, management fees and expenses (if applicable) all may be associated with investments in BMO ETFs and ETF Series of the BMO Mutual Funds. Please read the ETF facts or prospectus of the relevant BMO ETF or ETF Series before investing. BMO ETFs and ETF Series are not guaranteed, their values change frequently and past performance may not be repeated.
For a summary of the risks of an investment in the BMO ETFs or ETF Series of the BMO Mutual Funds, please see the specific risks set out in the prospectus. BMO ETFs and ETF Series trade like stocks, fluctuate in market value and may trade at a discount to their net asset value, which may increase the risk of loss. Distributions are not guaranteed and are subject to change and/​or elimination.
BMO ETFs are managed by BMO Asset Management Inc., which is an investment fund manager and a portfolio manager, and a separate legal entity from Bank of Montreal. ETF Series of the BMO Mutual Funds are managed by BMO Investments Inc., which is an investment fund manager and a separate legal entity from Bank of Montreal.
BMO Global Asset Management is a brand name under which BMO Asset Management Inc. and BMO Investments Inc. operate. Certain of the products and services offered under the brand name, BMO Global Asset Management, are designed specifically for various categories of investors in Canada and may not be available to all investors. Products and services are only offered to investors in Canada in accordance with applicable laws and regulatory requirements.
®/™Registered trademarks/​trademark of Bank of Montreal, used under licence.