ZGRN: Capital Alignment to Fight Climate Change - February
2022
Management Fee: 0.25% Risk Rating: Medium
Feb. 10, 2022
Alignment is a noun which implies something is in proper working condition, that there is a synergy between entities. Companies and sports teams want their people to be aligned to achieve objectives and factories want their machines to be properly aligned to ensure high production standards and to minimize waste. Alignment ensures energy is expended in an efficient manner to optimize performance.

Climate change is no longer a divisive subject; so many people have been affected by severe weather conditions across the globe. Efforts to combat climate change through environmental alignment have been signed into an international treaty, formalized in the Paris Agreement in 2015. The treaty is legally binding on the 196 signatories, aligning their policies to minimize global warming to less than 2˚C, ideally limited to 1.5˚C.

The initiative has spurred governments and industries to combine their efforts to push economies through a transitionary phase, away from traditional carbon and fossil fuels towards alternative and renewable energy sources. There will be winners and losers in a transitional economy, with some traditional or conventional energy sources becoming stranded assets, a concept which adequately describes the shift from brown towards green revenues.

Supporting this initiative, the Financial Stability Board formed The Task Force Climate-related Financial Disclosures (TCFD), which established guidelines for companies to report their exposures so investors could evaluate environmental risks to align their Capital accordingly.

MSCI has been an industry leader in constructing Responsible Investing and ESG indices, measuring and evaluating reams of data to create benchmarks which allocate towards companies whose business models and practices align with objective standards. Their ACWI Paris-Aligned Climate Equity index incorporates TCFD reporting and seeks to meet or to exceed the objectives defined in the Paris Agreement.

The graphic below outlines some of the steps followed in the MSCI ACWI Paris-Aligned Climate Equity index methodology: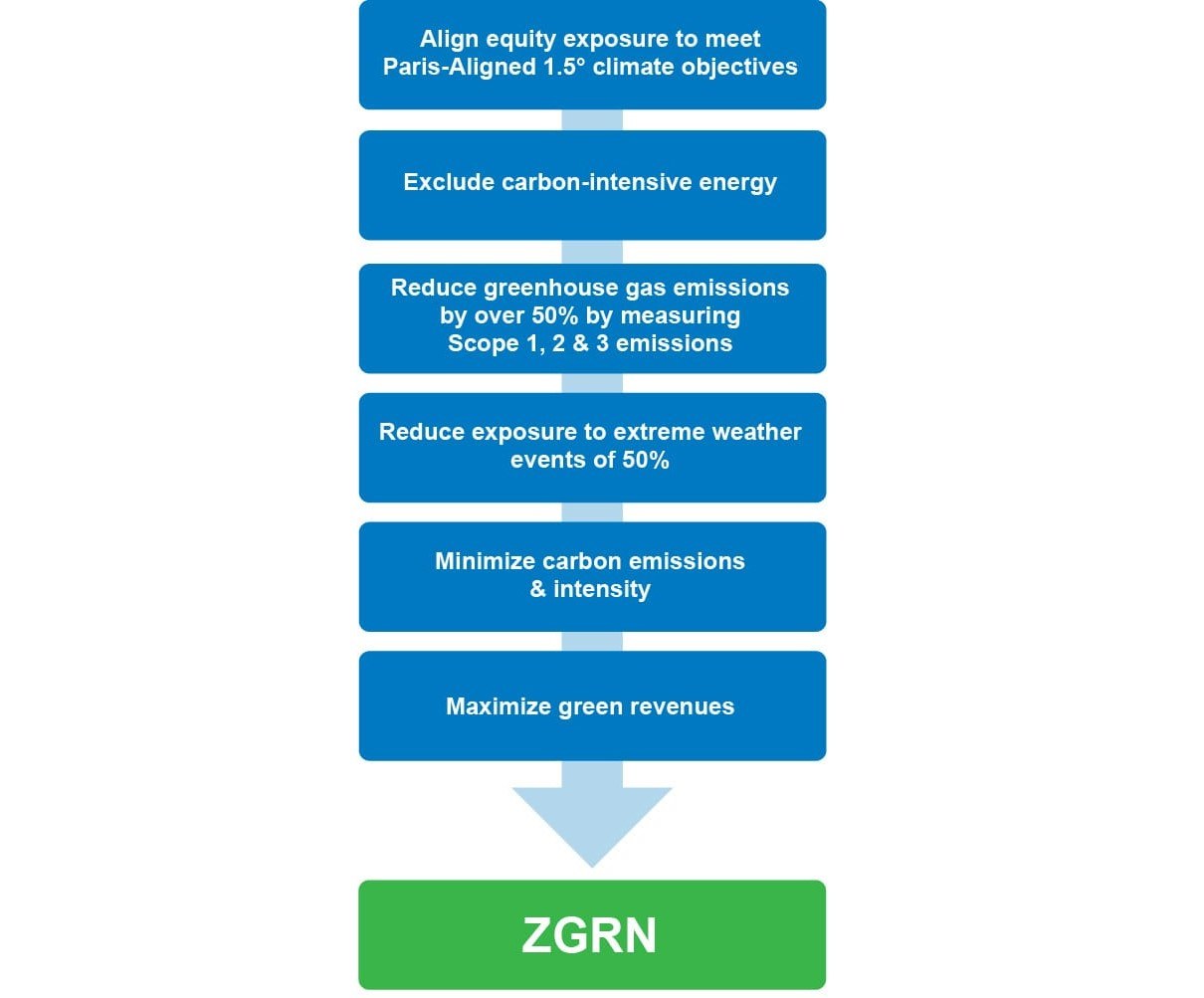 Unlike broader RI or ESG mandates, this is a climate change index which measures scope 1, 2, & 3 emissions and their physical weather impacts and weights towards Green revenues. The index minimizes Tracking Error by maintaining +/-5% weights to the sector and countries of the parent index (NB – carbon-intensive energy sector is excluded). Being an ACWI – All Country World index, it covers 23 Developed and 25 Emerging Markets, making it suitable as a Core Global Equity holding or as a complementary exposure.

In comparison to other climate approaches, the MSCI ACWI Paris-Aligned Climate Equity index provides the most comprehensive exposure to meet climate objectives.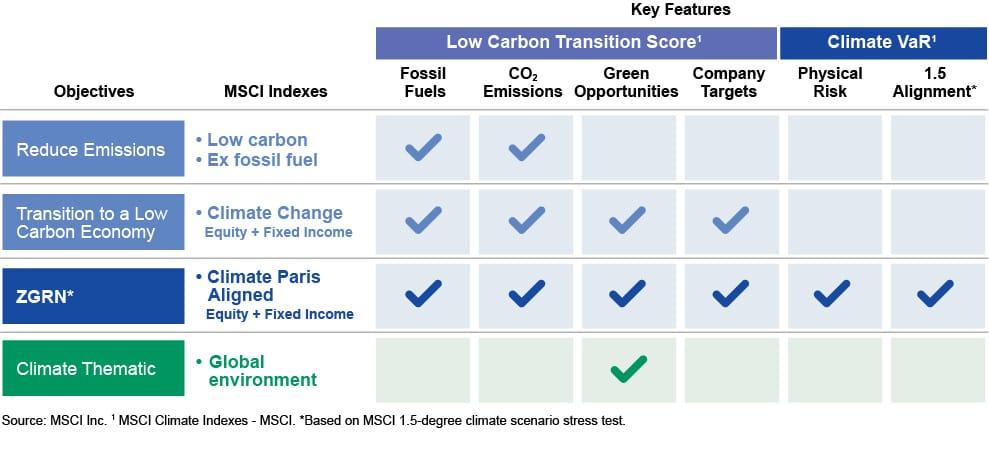 The table below shows how a climate specific methodology enhances outcomes for Institutions who want to make a climate impact, minimizing emissions and their intensity in a company's revenues, raising the transition and the Physical Climate Value at Risk measures:
MSCI ACWI
MSCI ACWI ESG Leaders
MSCI ACWI Paris Aligned
Tracking Error

0

1

.

4

1

ESG Score

6

.

4

7

.

4

6

.

6

Environmental Pillar Score

6

6

.

6

6

.

6

Carbon Emissions (t CO

2

e/$M Invested)

80

44

11

Carbon Intensity (t CO

2

e/$M Sales)

198

121

37

Weighted Average Carbon Intensity (t CO

2

e/$M sales)

152

90

44

Low Carbon Transition Score

6

.

2

6

.

2

6

.

8

Physical Risk Climate VaR
-

5

.

1

-

4

.

7

-

2

.

9
Source: MSCI ESG Research, December 31, 2021; BMO Exchange Traded Funds listed ZGRN on the TSX January 27, 2022.



Contact your BMO ETF Specialist for more information.

Erika Toth: Erika.​[email protected]​bmo.​com, (514) 358-2310
Dan Stanley: Daniel.​[email protected]​bmo.​com, (416) 418-2354
Laura Tase: Laura.​[email protected]​bmo.​com, (647) 531-8769
Mark Webster: Mark.​[email protected]​bmo.​com, (604) 562-2851

*Risk is defined as the uncertainty of return and the potential for capital loss in your investments.
Risk tolerance measures the degree of uncertainty that an investor can handle regarding fluctuations in the value of their portfolio. The amount of risk associated with any particular investment depends largely on your own personal circumstances including your time horizon, liquidity needs, portfolio size, income, investment knowledge and attitude toward price fluctuations. Investors should consult their financial advisor before making a decision as to whether this Fund is a suitable investment for them.
Commissions, management fees and expenses all may be associated with investments in exchange traded funds. Please read the ETF Facts or prospectus before investing. Exchange traded funds are not guaranteed, their values change frequently and past performance may not be repeated. For a summary of the risks of an investment in the BMO ETFs, please see the specific risks set out in the prospectus. BMO ETFs trade like stocks, fluctuate in market value and may trade at a discount to their net asset value, which may increase the risk of loss. Distributions are not guaranteed and are subject to change and/​or elimination.
BMO ETFs are managed by BMO Asset Management Inc., which is an investment fund manager and a portfolio manager, and a separate legal entity from Bank of Montreal.
The BMO ETFs or securities referred to herein are not sponsored, endorsed or promoted by MSCI Inc. ("MSCI"), and MSCI bears no liability with respect to any such BMO ETFs or securities or any index on which such BMO ETFs or securities are based. The prospectus of the BMO ETFs contains a more detailed description of the limited relationship MSCI has with BMO Asset Management Inc. and any related BMO ETFs.
®/TM Registered trade-marks/trade-mark of Bank of Montreal, used under licence.