Equity ETF Portfolio Decision Tree
Dec. 21, 2022
ETFs are the gift that keeps on giving and continue to gain in popularity around the globe for their endless efficiencies. Equity based ETFs have the greatest market share relative to fixed income. In Canada, there are over 300 equity ETFs, dwarfing that number in the US there are over 1290 equity ETFs.1 If you have an exposure in mind, chances are you can find an ETF to meet your desired outcome with products covering the spectrum of broad beta, factors and sectors. Additionally, recent innovation has led some investors to consider adopting active ETFs to enhance alpha in a portfolio.
Portfolio construction is as much an art as it is a science. ETFs can simplify the portfolio construction process because they offer greater transparency. It may be helpful to review a simple framework for building an equity portfolio and the considerations that help determine what mix is right for you. For the purposes of this framework we have divided the equity ETF universe into three simple groups.

The challenge is deciding how to combined these products to build a strong equity portfolio
Approaches to portfolio construction


A further approach would be to adopt a blend of these approaches. Sounds simple enough but deciding how to align your portfolio weights with your economic views, level of conviction, and considering how factors and sectors intersect entails greater deliberation.


Decision Framework:
1. Conviction Level: How heavy in the core?

Using a core and satellite approach, higher conviction leads to higher weights in the satellites, whereas more uncertainty leads higher weight in the core. Investors with confidence in global leadership and the further expansion of coordinated global growth will put higher weights in satellites; including more cyclical factors, and less defensive sectors. Investors with limited confidence will do the opposite. Those in between, are best off with broad beta exposures.

2. Economic View:
Not all factors and sectors have the same macroeconomic drivers, and therefore some factors/​sectors will outperform others based on inflation, the interest rate environment, and the economic cycle. Using a rotation strategy can be profitable as a satellite to your core broad beta exposures.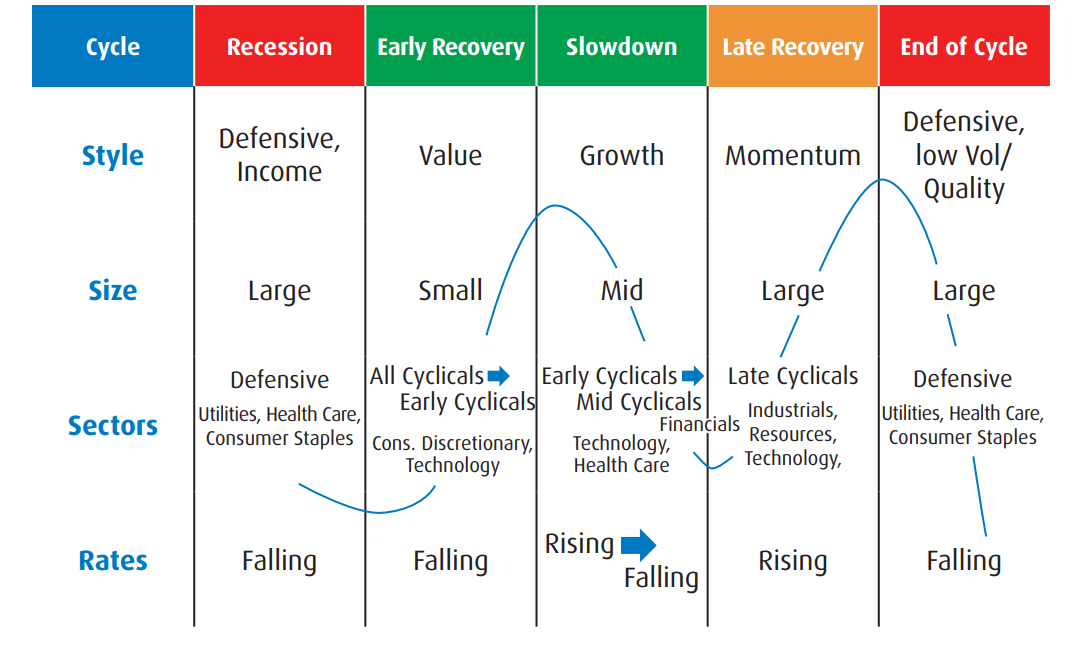 3. Sector/​Factor convergence - what are the biases?
Being aware of how Factors intersect with sectors and how Factors have consistent sector concentrations is an important consideration. While concentration of sectors in factors such as Momentum and Quality would change over time and tend to be more diverse, Factors such as Low Volatility have more consistent sector biases (Utilities, REITs, Consumer Staples) consider.
Other Considerations
Currency – While over the longer term there is purchasing power parity (PPP) between two currencies, to which they will revert over time, over the shorter-term currencies can trade beyond their PPP for significant periods of time. If an investor believes the U.S. Dollar will appreciate against the Canadian Dollar and are looking to invest in U.S. equities, an unhedged U.S. equity ETF may be more suitable as an example.
Geography – Political regimes, tax laws, monetary policy and business cycles are rarely the same across the globe, and these variables have an impact on the performance of your portfolio. Therefore an investor should be aware of a region's macro-economic landscape as these variables will impact performance.
Income Needs – investors needing extra income can consider a higher allocation to higher income sectors such as financials and Utilities, as well as higher exposure to yield based factor indices.
Tax Efficiency – investors in taxable accounts can consider ETFs that use derivatives such as our Covered Call ETFs.

Sample Portfolios below follow this decision framework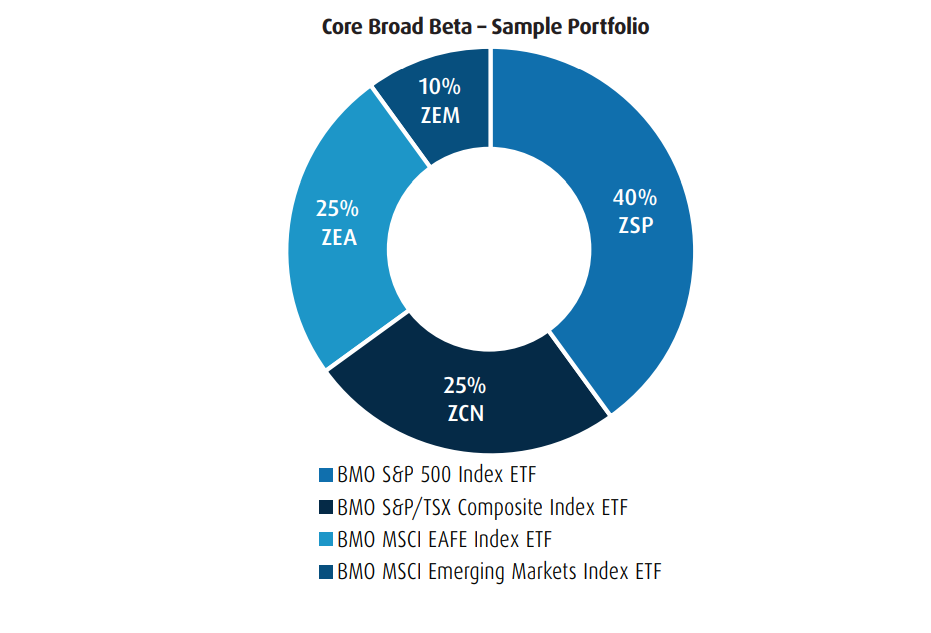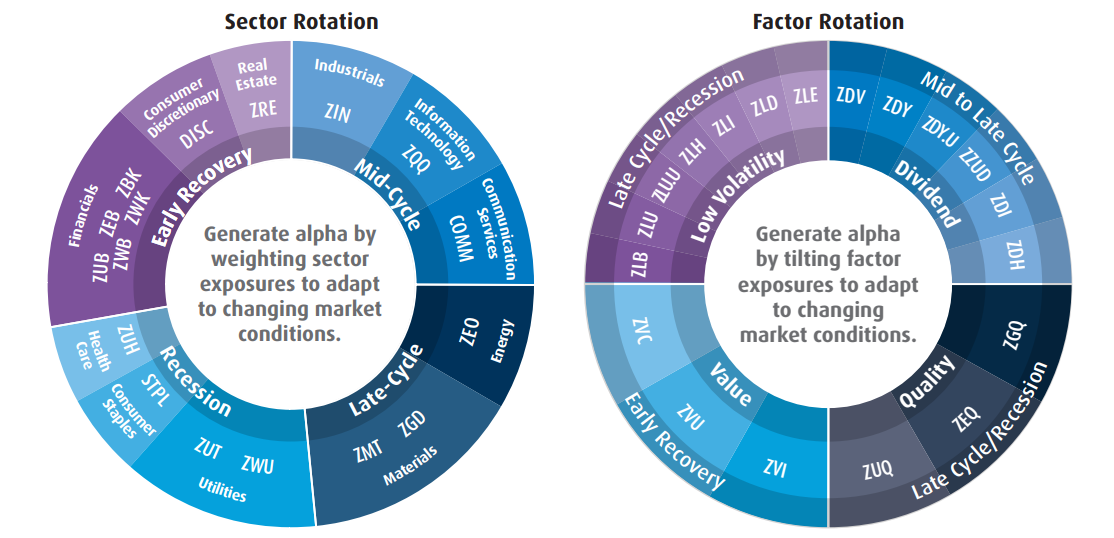 Core & Satellite Blended Portfolios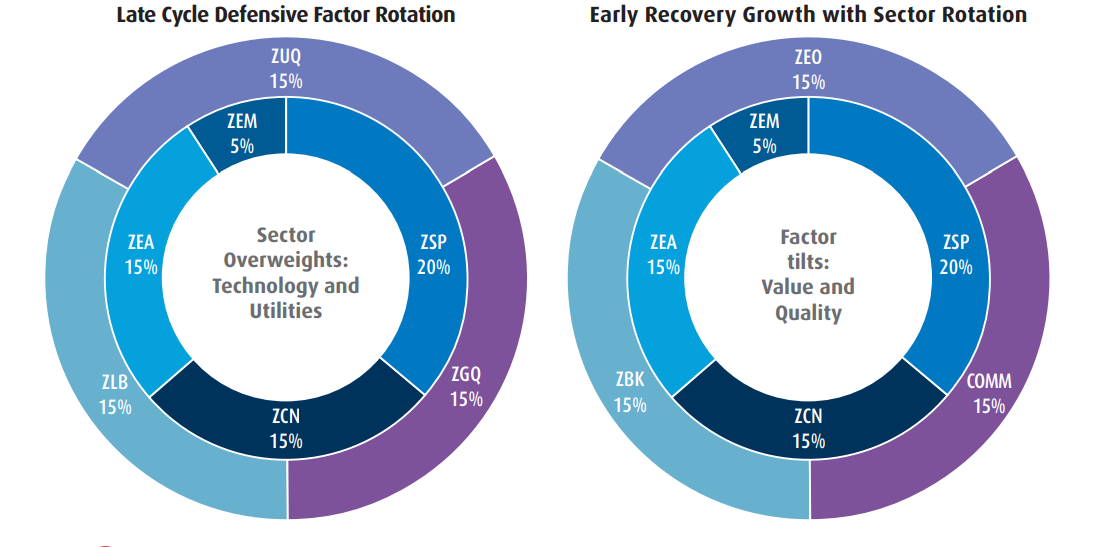 1 Source: ETFGI, April 2019.
Any statement that necessarily depends on future events may be a forward-looking statement. Forward-looking statements are not guarantees of performance. They involve risks, uncertainties and assumptions. Although such statements are based on assumptions that are believed to be reasonable, there can be no assurance that actual results will not differ materially from expectations. Investors are cautioned not to rely unduly on any forward-looking statements. In connection with any forward-looking statements, investors should carefully consider the areas of risk described in the most recent simplified prospectus. BMO ETFs are managed and administered by BMO Asset Management Inc., an investment fund manager and portfolio manager and separate legal entity from the Bank of Montreal. Commissions, management fees and expenses all may be associated with investments in exchange traded funds. Please read the ETF facts or prospectus before investing. Exchange traded funds are not guaranteed, their values change frequently, and past performance may not be repeated. BMO Global Asset Management is a brand name that comprises BMO Asset Management Inc., BMO Investments Inc., BMO Asset Management Corp., BMO Asset Management Limited and BMO's specialized investment management firms.
®/™Registered trade-marks/trade-mark of Bank of Montreal, used under licence.